About Vishwa Kirti Resort
Govt. of Maharashtra has been promoting Agri Tourism aggressively not only to promote tourism but also to preserve the ecological balance of the area. Vishwa Kirti Agri Toursim Resort, located in the hinterland of Shirur, is one such agri tourism resort to be visited. It is about 75 kms from Pune on the Pune-Ahmednagar highway (SH 27) via Shikrapur. It is a one day picnic spot near Pune.
They have nine residential blocks of which four are large family rooms. The rooms are well furnished with a mini fridge provided in each room and rooms are well maintained. All the rooms have been provided with AC. However, power supply in the area is very erratic. The owners are running the ACs on genset but with switching on more than one AC, the power trips. They are proposing upgrading the genset. Solar power could be another option. Fruit and chat basket is provided to each room as complimentary along with cold drinks. A conference hall is under construction at the upper level of the land and five bamboo huts are ready adjacent to the proposed conference hall.
The resort is visited by travellers as one day picpic spot also.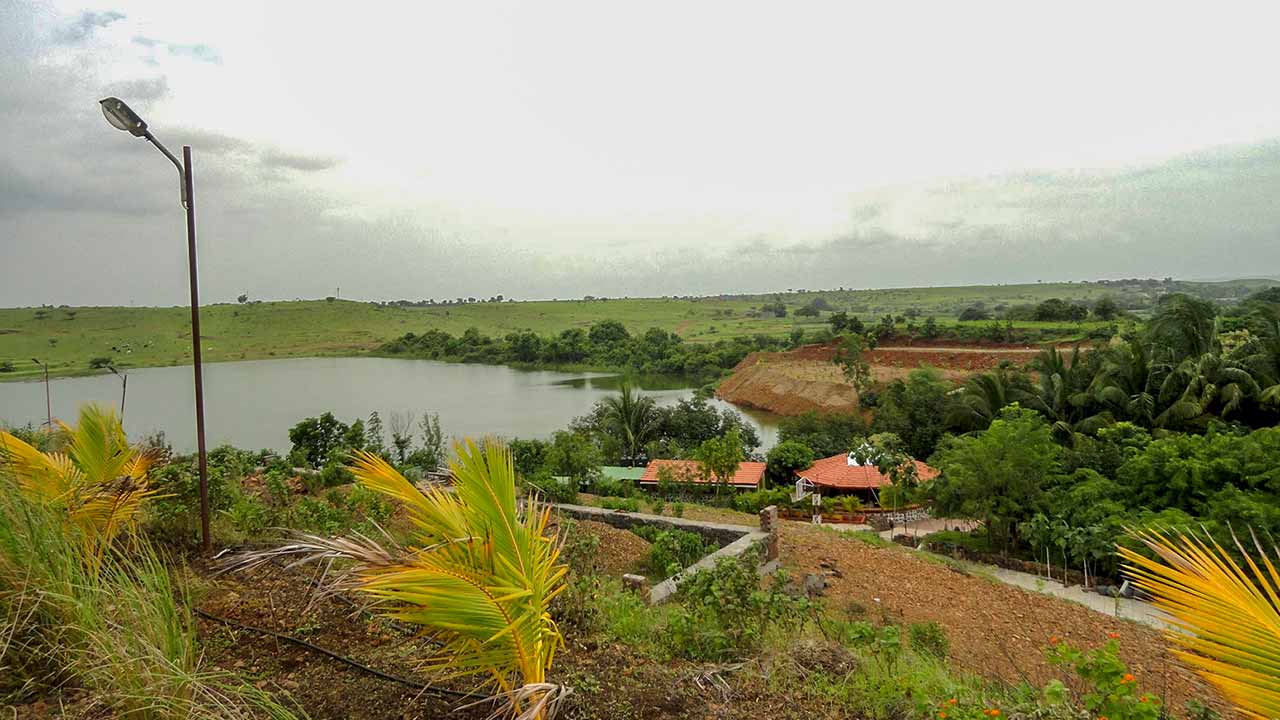 Vishwakriti Agri Tourism Resort
How to reach?
From Pune :
Shikrapur-> Ranjangaon-> Shirur-> Wadegavhan. Once you reach Wadegavhan village (3 kms from Shirur on the Pune-Ahmednagar highway), take a right turn next to Nighoj Nagari Pathsanstha (on the right and drive around the fort like structure and follow the sign boards on the inner road. After 2.5 kms, there is an indication board for Vishwakirti Agri Tourism Resort for left turn which is a muddy road of 2.5 kms. Instead of taking this turn, you can continue on the tar road for another 2.5 kms and take a left turn at the next sign board. The kutcha road is much lesser than from the 1st turn.
By Rail:
The nearest railway station is Pune at a distance of 75 kms. Ahmednagar Railway station is 83 kms away.
By Air :
The nearest Airport is Pune.
What to do there?
They have play ground for games like basketball, other outdoor games, indoor games. There is a dining hall on the banks of the lake next to the games area. There is also a swimming pool. They have birds like swans, emus, and animals like rabbits and horse. They also rear cows and buffaloes for the milk. You can take a bullock cart ride or horse riding around the resort.
They have built bamboo huts for occupation by guests. This will provide a village life feeling to the occupants.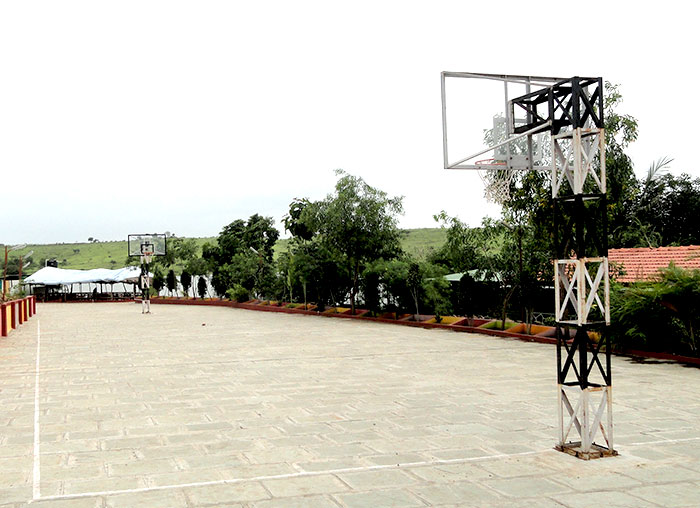 Basketball Court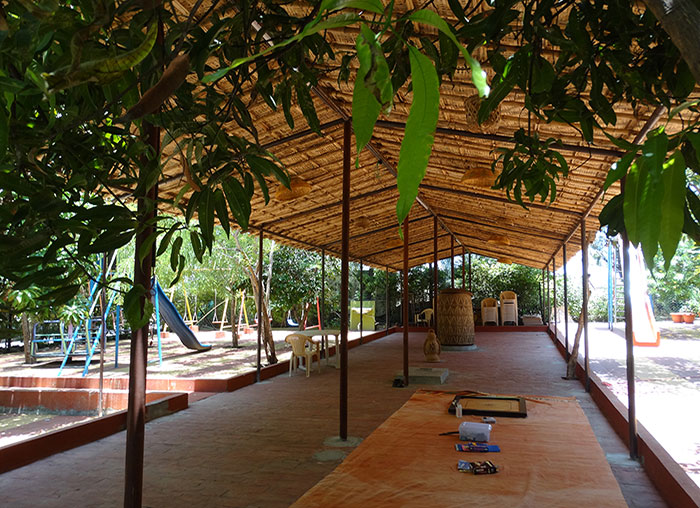 Children's play area
Other places to see around?
Ranjangaon Mahagapathi Temple is 17 kms away from the resort on the Pune-Ahmednagar highway.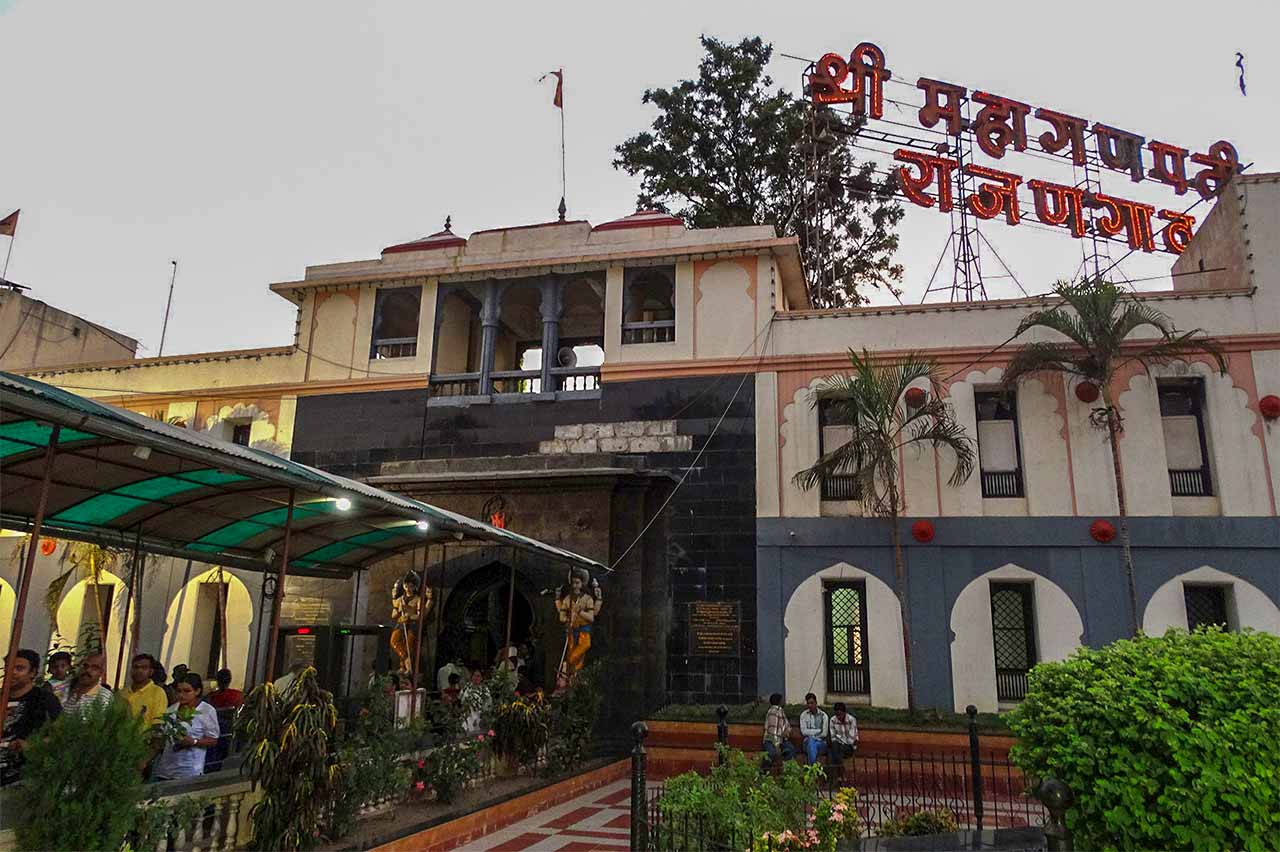 Ranjangaon Ganapati Temple
Where to eat?
The resort has inhouse restaurant and the meals provided are delicious.
Summing up !
A one day picnic spot for school children or families. A spot to spend a day or two with peace and tranquility.