About Velas Agar
Velas Agar is a beach destination located at 7 kms from Dive Agar. There is one resort named Solitude Beach Cottages in the village. This resort is right on the edge of Velas Agar Beach, which is a virgin and clean beach. Visited Velas Agar with spouse in February 2013 at the recommendation of a family friend.
The Solitude Beach Cottages has 7 cottages with sitting space on the veranda. The cottages are surrounded by cocounut trees. From some of the cottages you can see the beach. The restaurant which provides home cooked food to order, is nearer the beach. You can see the beach while eating or relaxing.
In February, we found this was the only beach resort in the village with some houses surrounding it.

Solitude Beach Cottage Rooms
How to reach?
From Pune :
Drive upto Khopoli on the Old Pune - Mumbai highway (taking a diversion after Khandala Ghat on NH4) and take the Pen route from Khopoli. Drive further to Pali, Wakan, turn left for Mahad, travel 60 kms to Mangaon. After Mangaon Bus Stand take right turn and drive to Morba (5 kms), Mhasala (20 kms) and Vadavli Phata (15 kms). At Vadavli Phata turn right for Dighi (the road to the left goes to Dive Agar) and proceed for 3 kms, and take the road that goes to the left near the name plate of Hotel Samadhan for Velas Agar village (1 kms). Slightly ahead on the village road, on the left you will find Solitude Beach Cottages (known locally as Bandal Resort).
Alternate route is through Bhor Ghat.Take Pune - Satara Highway (NH 4) till Kapurhol. There you take right towards Bhor (Verandha) Ghat-Mahad-Lonere. Take left turn to Goregaon-Mhasala-Vadavali Phata-Turn to Dighi and turn left for Velas Agar which is at a distance of 1 km from the turn. But the road through Khopoli is much better even though slightly longer.
You can also take the Tamhini Ghat route : (shortest route from Pune) - Pune - Chandni Chowk-Pirangut-Paud Village-Tamhini Ghat. While going down Tamhini Ghat take the sharp left turn at Vile Phata towards Nizampur-Mangaon (straight road goes to Kolad. Avoid it). Vile Phata to Nizampur is 15 kms and Mangaon is 10 kms from Nizampur. At mangaon take the left turn on Mumbai-Goa Highway (NH 17). Proceed on the highway for 200 meters and take the right turn towards Mhasala village. From the turn at a distance of 5 kms is Morba village. After 20 kms from Morba is Mhasala village. Take the right turn at S.T. Stand at Mhasala. After 15 kms there is a junction called "Wadali Phata". The road to the left goes to Dive Agar whereas the road to the right goes to Dighi Port. Take the road which goes to the right towards Dighi. Go 3 kms and on the left side near the banyan tree there is a road which goes to Velas Agar (1 km). On reaching Velas Agar village, ask for Bandal Resort (Solitude Beach Cottages).
From Mumbai :
Take the Mumbai-Panvel-Goa highway (NH 17) till Mangaon. At Mangaon Bus Stand take right turn and travel to Mhasala-Vadavali Phata-Take right turn-Take road for Dighi-After 3 kms take left turn for Velas Agar (1 kms).
What to see or do there?
You can see flock of birds on Velas Agar beach in winter. You will also find village women extracting shell fish from the shores.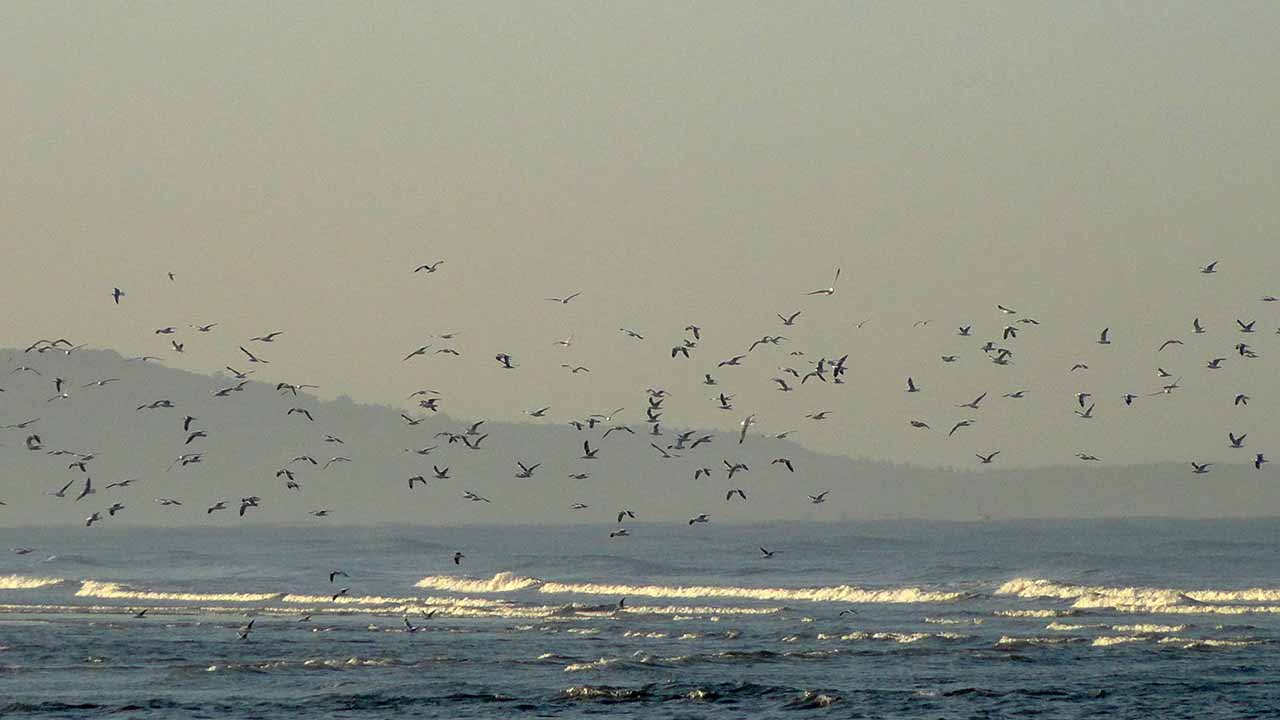 Migratory birds on the beach
Velas Agar beach is a quiet beach with vast stretch for walking/playing undisturbed.The road from Velas Agar to village ahead runs parallel to the sea beach.In the evening, you can watch sun set on this road, which is an awe inspiring sight.
Since there is not much habitation around, no shopping or other such activities are possible. But this is a beach which really provides you solitude, if you are looking for one !
Places to visit around Velas Agar
This beach is at a distance of about 7 kms from the resort on the Vadavali-Borli- Divegar route.
One of the popular beaches in Raigad District,this is about 45 kms from Velas Agar.This is also a pilgrimage center housing the temple of Lord Harihareshwar. Harihareshwar is also known as 'Dev-ghar'. It has two beaches - north and south of the temple.
Murud Janjira Fort
It is at a distance of about 10-12 kms. from the resort.
UPDATE
visited the Solitude Beach Cottages in Velas Agar again on 9th November, 2013 with family. The resort has added four new AC rooms to the existing 7 non-AC rooms. This addition, probably, has resulted in deterioration in service at the resort. The food quality has deteriorated. Among the 7 non-AC rooms, only 4 rooms have electric geyser which is kept switched off through a manually controlled switch from outside. 3 rooms at the entrance to the resort have power trippage (not outage but trippage viz., every one hour the main switch trips resulting in manual intervention in pushing it up). This had resulted in sleepless night during our stay. This could be a temporary problem.
Summing up !
Not very far from Mumbai and Pune this beach provides solitude to those seeking it. The Solitue Beach Resort, like the name suggests, provides the required solitude.