About Sula and the Resort
Located at 15 kms. On the outskits of Nashik City is the Sula Vineyards, manufacturers of Sula brand wines. I visited the vineyard on 15th June, 2014 when I was in Nashik. It is approachable both from Nashik city and from Mumbai – the first through Dwarka circle and the latter through Garware circle on the Mumbai-Agra Highway.
Started by Mr.Raju Samant, CEO in 1996 initially with white variety of grapes and in 1998 with red variety of grapes, first crushing of grapes for wine making started in 1999 and Sula branch was launched in 2000. With the market share of 80% Sula rules the wine market in India. At the Sula vineyards, 30 acres is dedicated to growing grapes while 300 acres are owned by the company at Dindori and another 1400 acres are contract hired from the farmers.  With the total acreage of 1700 acres for grape cultivation, this is an industry by itself. The name "Sula" is derived from the CEO's mother name "Sulabha".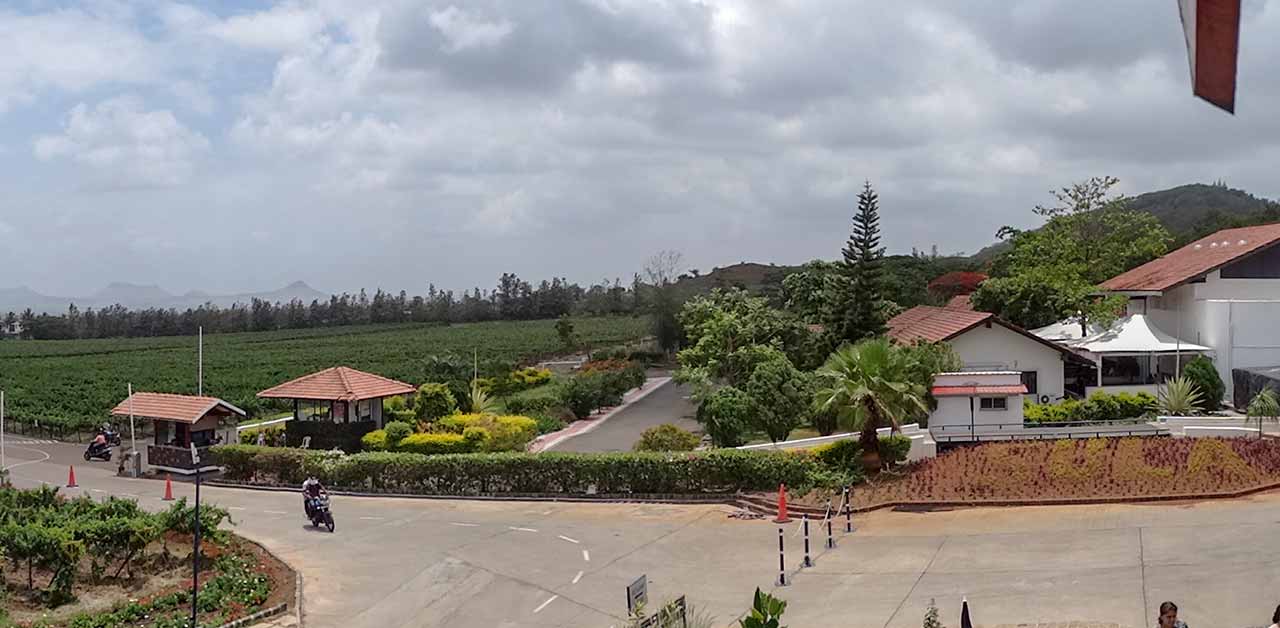 Sula Wines, Nashik
3 kms. away from the factory is the "Beyond Vineryard Resort" managed by Sula Wines.  One of the best resorts located on the banks of a lake with row house type accommodation facing the swimming pool and the lake. The resort has 32 well maintained rooms and a play area of children. Café Rose offers Sula wine at a discount of 10% during happy hours and provides a la carte dishes. It has a fully equipped gym and Spa in addition to games room.
How to reach?
By Road :
From Pune :
There are direct buses from MSRTC as also private operators to Nashik from Mumbai covering a distance of 180 kms and from Pune covering a distance of 210 kms.
The winery of Sula Wines is located at 17 kms from Nashik city and Beyond Vineyards Resort is located 3 kms from Sula Wines.
By Rail:
The nearest railway station is Nashik.
By Air :
The nearest Airport is Nashik.
What to do there?
You can take a tour of the Sula Wine factory where they explain the wine making process. The company has 120 huge steel tanks of the capacity from 20,000 litres to 95,000 litres with a temperature of 20.5 degrees Celcius and humidity of 74%  in addition to a large celler holding 600 wooden caskets of wine for ageing.
Sula manufactures different brands of wine viz.,
Brut,

a sparkling wine (similar to Champaigne) with an alcohol percentage of 12.5%.

Riesling

– white wine with an alcohol percentage of 10.5%.

Dindori Viognier

– It has an alcohol percentage of 14%.

Satoni (Dancing Lady)

- This is a red wine with an alcohol percentage of 13.5% with blackberry aroma.

Brut – Rose

– white wine with an alcohol percentage of 12.5% with a fruity aroma.

Dindori Shivas

– This wine is stored in oak barrels for 12 months for ageing containing an alcohol percentage of 13.5%. It gives an oaky aroma.

Chenin Blanc

– This is sweeter variety of wine.

Other brands

–Cabernet Shiraz, Sauvignon Blanc, Sula SECO, Piper Heidsiece (champaigne) Brut.
When you are a part of the factory tour group, you get the chance to taste different variety of wines manufactured by Sula.  The person in charge of the tasting room, explains the method of tasting wines.
Firstly, wine is to be served in glasses specifically meant for wines i.e., those with a long stem. The reason is wine poured in a glass should not be covered by human hand as the body temperature on the surface of the glass changes the aroma of the wine.
So,
Rule No.1 – hold the wine glass either at the bottom or on the stem.
Rule No.2 – stir the wine in the glass (except Champaigne or sparking wine), smell the aroma of the wine and then sip the wine. Champaigne or sparking wine is not to be stirred as the bubbles it contains mixes with atmosphere.
Where to stay?
3 kms away from Sula Wines is the Beyond Vineyard Resort managed by Sula Wines. This is a beautiful resort located on the banks of the lake.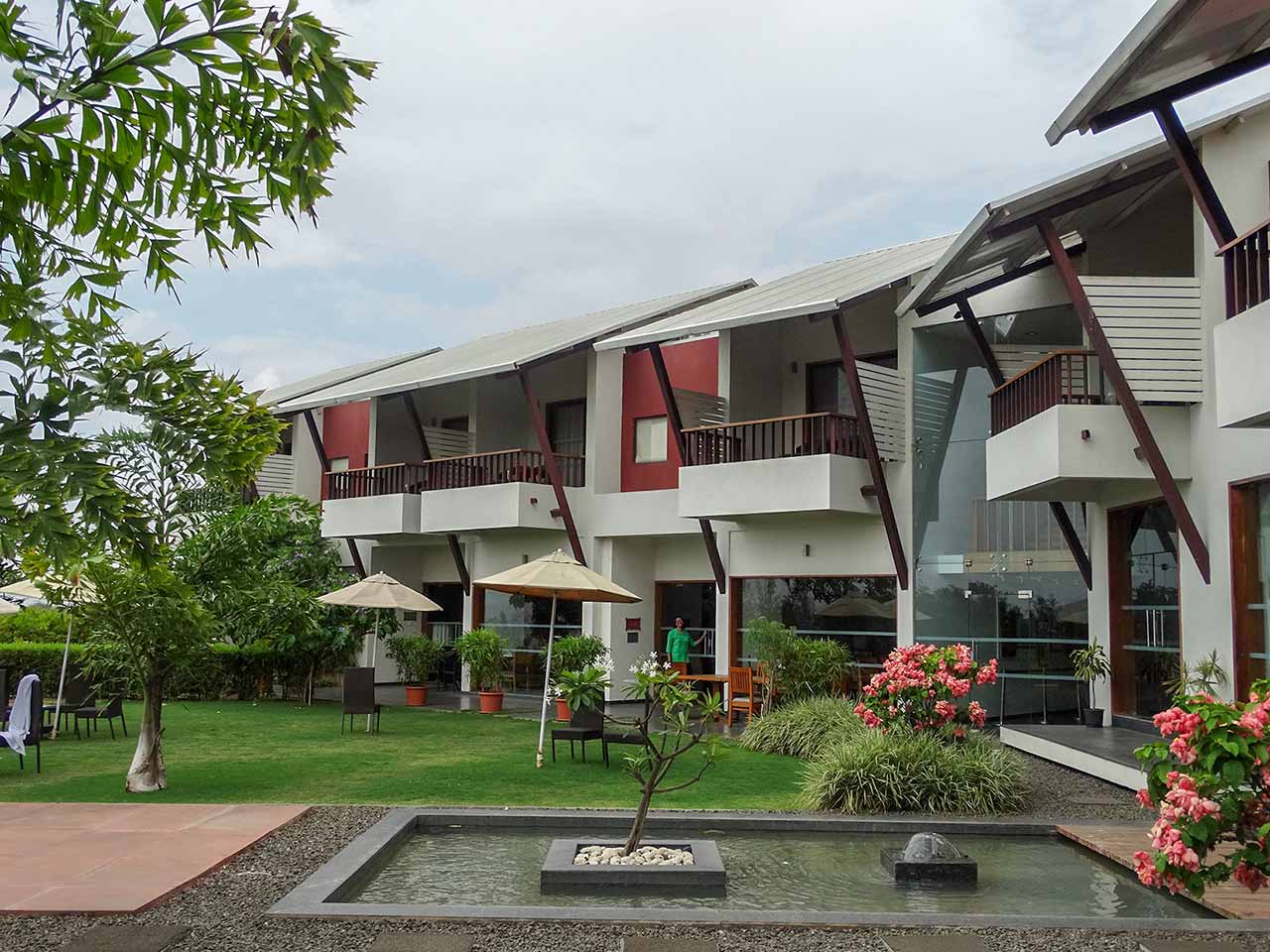 Beyond Vineyard Resort, Nashik
Where to eat?
Beyond Vineyard Resort has inhouse restaurant and the meals provided are delicious.
Summing up !
It is also a good weekend gateway from Pune or Mumbai at a reasonable cost.