About Goa
Goa, the beach destination, is generally frequented by tourists in summer either to beat the heat or to enjoy the water sports and other activities. But visit to Goa in monsoon is a different experience altogether. Visited Goa by road in the rainy season in the month of July via Amboli and Malvan. It was a great experience!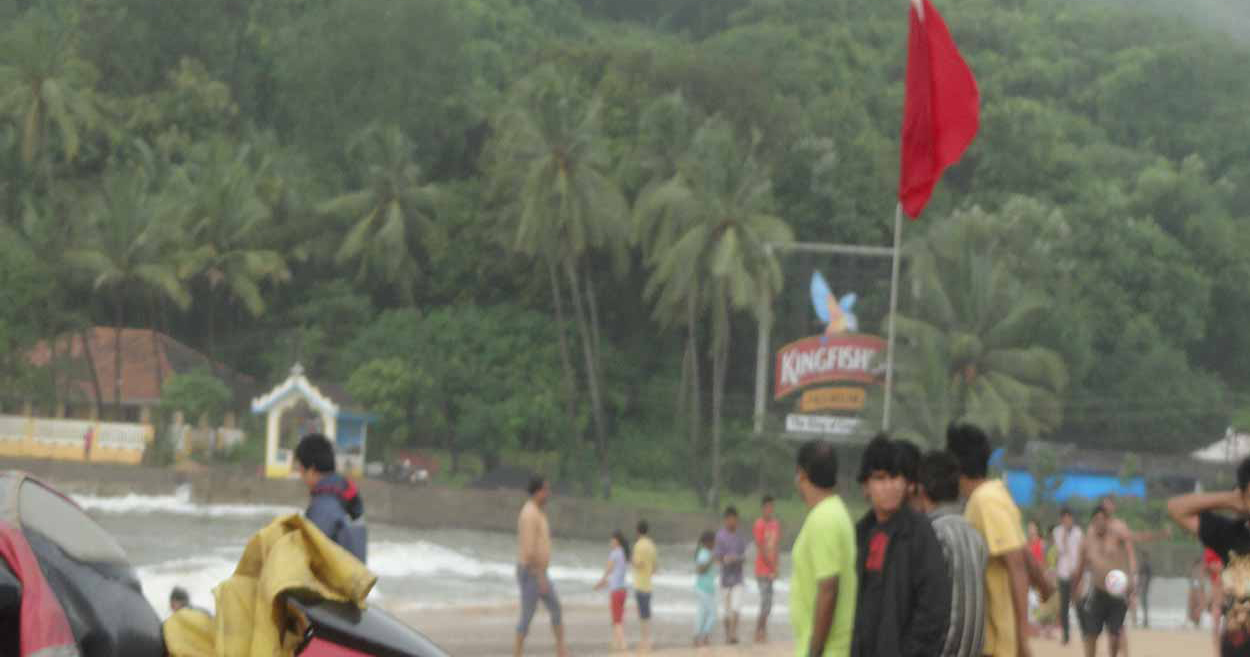 Baga Beach,Goa
How to reach?
The travel route taken by me was Pune->Kolhapur->Sankeshwar on the NH4 (Pune-Bangalore Highway) and took a right turn under the flyover at Sankeshwar (took a left turn at Sai Hotel just before the Sankeshwar bridge and a right turn under the bridge towards Gadhinglaj). The route is Sankeshwar->Gadhinglaj->Ajra->Amboli (70 kms from Sankeshwar). Sawantwadi is 30 kms. from Amboli and Goa is another 60 kms from Sawantwadi.
Complete route map :
Pune->Satara->Kolhapur->Sankeshwar->Gadhinglaj->Ajra->Amboli->Sawantwadi- >Kudal->Malvan (if you want to visit Malvan)->Goa.
Distance in Kms. -- Satara(112)- Kolhapur (123)- Sankeshwar (59)-Gadhinglaj (14)-Ajra (23)-Amboli (33)-Sawantwadi (31)-Kudal (21)-Malvan (30)-Goa (158) = Total - 604 Kms. If you travel directly to Goa instead of via Malvan, the total distance would be about 455 kms.
Preferred route to travel to Goa would be via Amboli-Sawantwadi as the road condition even in rainy season is good.
There is an alternate route : Kolhapur->Nipani->Utter->Ajra->Amboli- >Sawantwadi->Goa.
You have to take a turn near Hotel Kaveri for using the Nipani route.
Onward Journey to Malvan and Goa from Amboli:
Took the Amboli-Sawantwadi Road which passes through Amboli Ghats. 3 kms on this route is the Amboli Falls on the main road. It's a treat to watch the water falling from a great height right from your vehicle. During rainy season, you will find a number of smaller water falls on the ghat route. From Sawantwadi you can turn towards Goa (if that is what you are planning) or to Malvan (for Tarkarli, Chivla, Achara, Nivati, Devbaug and other beaches in Devgad, Vengurla and Tondavali). The distance between Sawantwadi to Malvan is 51 kms. But during rainy season, there is nothing you can do at Malvan area including Tarkarli as the sea water reaches the shores and no beach is visible.
Where to stay?
Stayed near Calangute Beach at Paradise Village Beach Resort which is just on the sea shore. It's a big resort at Tivai Vaddo with Studio rooms, Suits and Beach Cottages. We stayed in Suit room of Paradise Village Beach Resort which is quite spacious with a fridge, tea maker provided in the room. The rooms are neat and clean. The beach is a few meters away from the resort. You can obtain more details from Calangute Beach at Paradise Village Beach Resort website.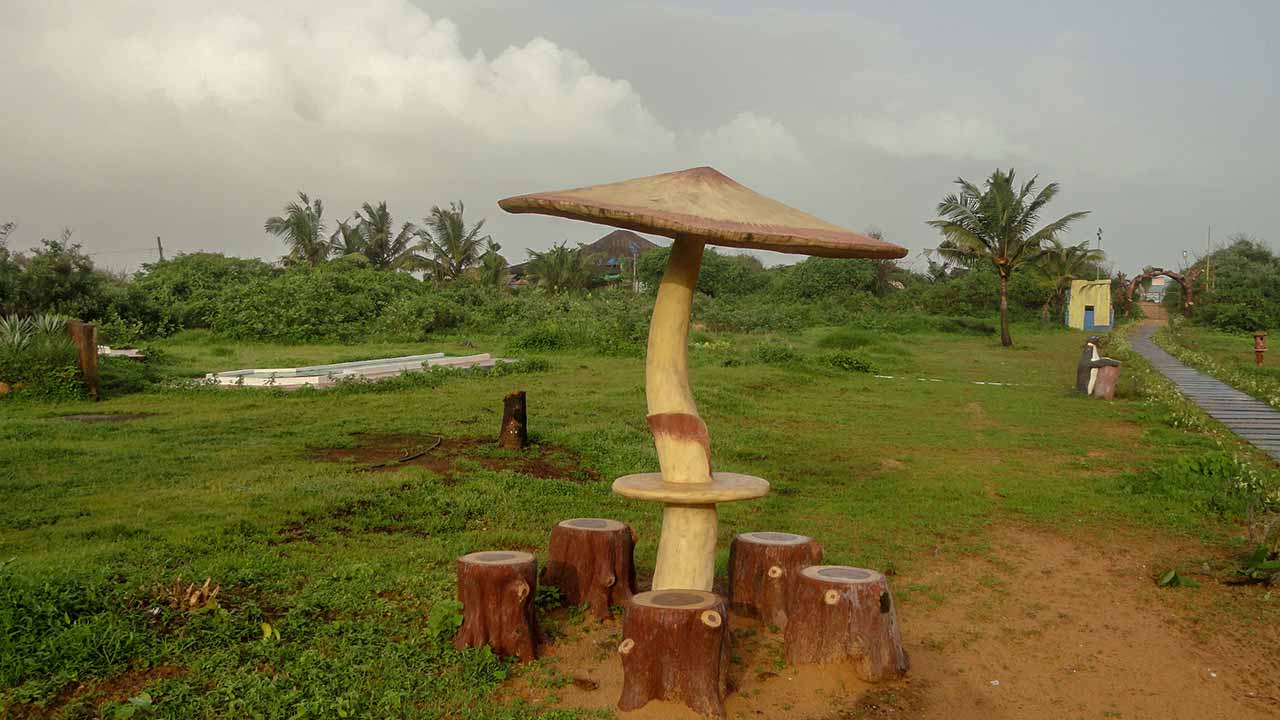 Paradise Village Beach Resort
Goa has some of the best hotels and resorts from five star to home stays.
What to see?
Goa has many destinations and tourist attractions. During rainy season there not much to be done on the sea beach. There are no water sports or any other sea sport activity. Shopping is one option and leisure is the other.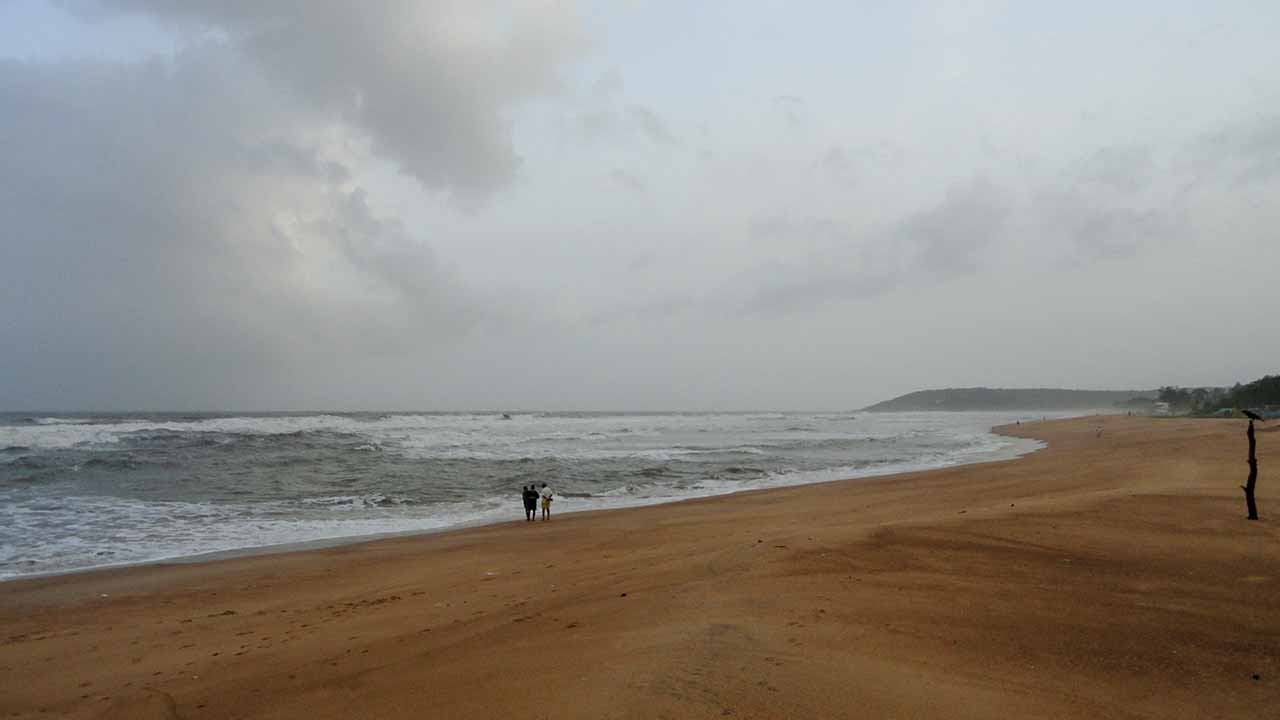 Goa Beach
Where to eat?
Eating Non-veg. food in Goa is something to remember by. Souza Lobo's at Calangute Beach and St.Anthony's at Baga Beach (2 kms from Calangute beach) are two of the popular beach restaurants.
Even in the rainy season, with the wind blowing a high speed, sitting inside the restaurant and eating with the sound of waves on the background is a rewarding experience.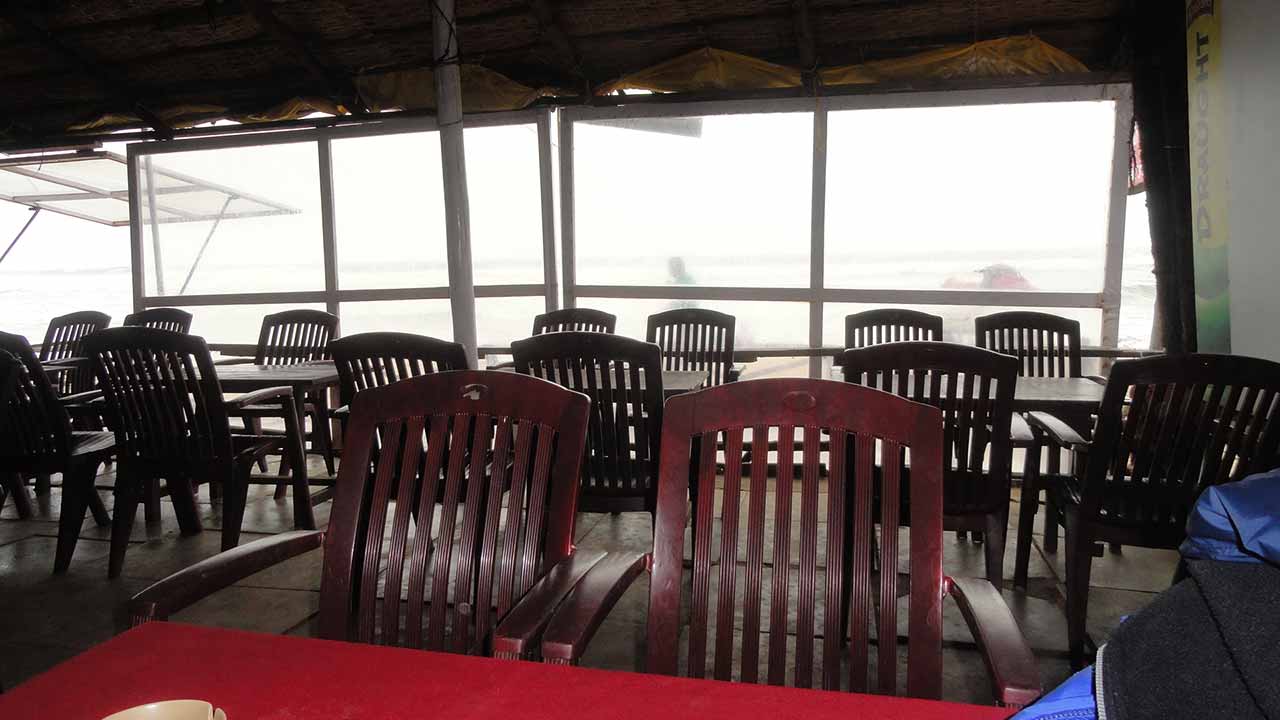 St.Anthony's Restaurant,Baga Beach
Any other activity?
There are no water sports at these beaches during rainy season as the sea is very rough with high waves. But you can sit on the beach whenever it is not raining and relax.
Summing up !
Go.. visit Goa in Monsoon if you are looking for leisure and just to chill !