About visit to Europe
Visiting Europe is a dream of any traveller. What is so special about Europe tour? How many countries can be covered and how many days will be required? What will be the cost of Europe tour package from Mumbai or any other city etc. are many a questions that come up when we think about such a tour.
Visited Europe with spouse in May 2012. There are many tour operators offering Europe tour package from Mumbai. After weighing various options and tour operators, we decided to opt for SOTC. It was a 15 day 'Cost Saver tour' excluding add ons like Gala Evening in Paris, visit to Mount Titlis and visit to Jungfraujoch mountain/Interlaken (these add ons are optional in cost saver option).
The tour itinery was London-2 days, Paris-2 days, Belgium-1 day, Netherlands-1 day, Germany-1 day, Switzerland-3 days, Austria-1 day, Italy-3 days = total 14 nights/15 days.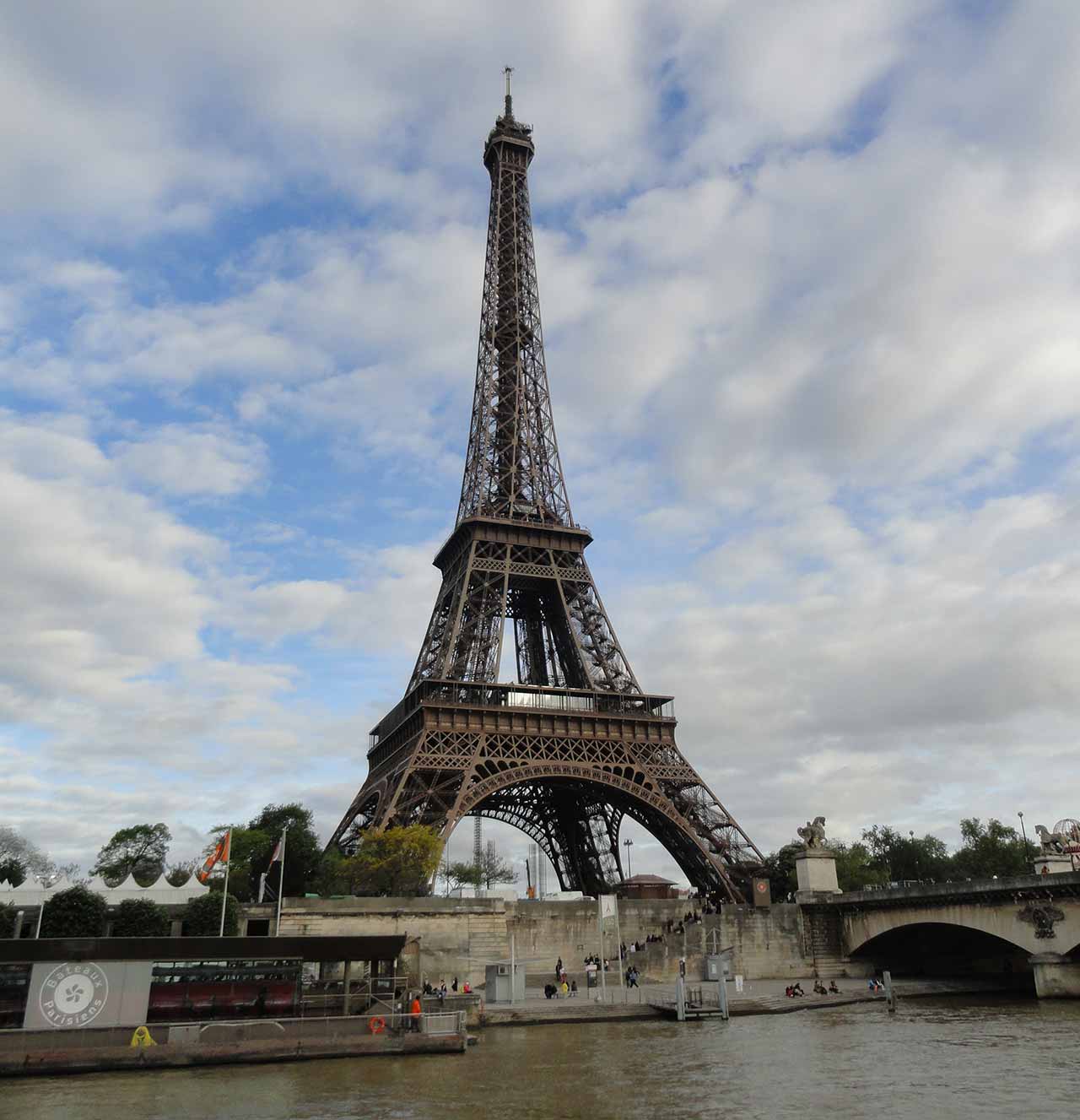 Eiffel Tower,Paris
Day 1 - LONDON
We boarded the Emirates flight at Mumbai Airport at 9.45 a.m. and reached London via Dubai at 6.40 p.m. (London time). It was a group of 45 people. We were put up at IBIS Hotel at Wembley, London.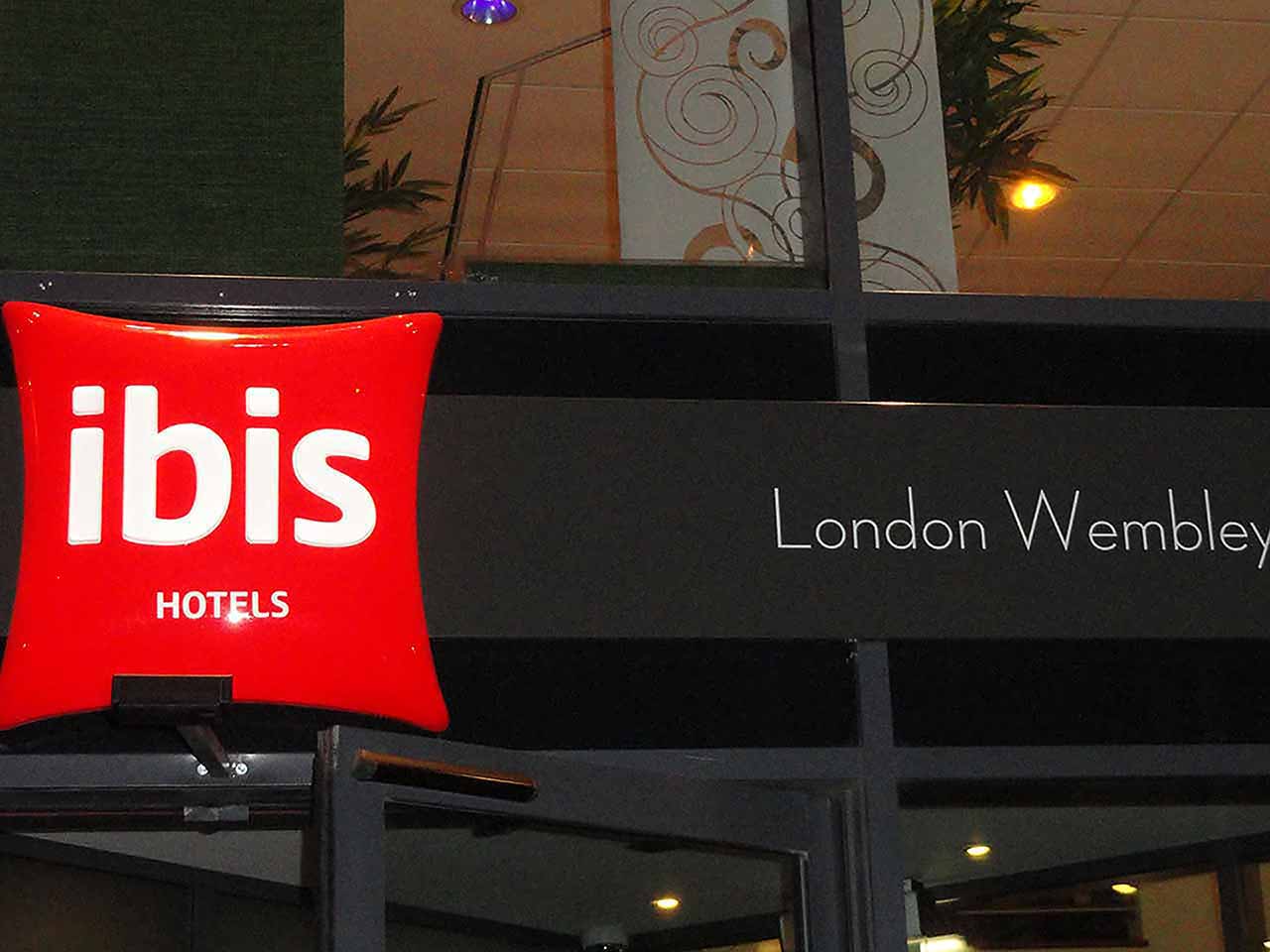 IBIS Hotel, London
It was a nice hotel with a beautiful surrounding. On the left is the Wembley Football Stadium and in front is the Wembley Railway Station.
On reaching the hotel in the evening, we relaxed for sometime and later had dinner at a nearby Indian restaurant.
Day 2 - LONDON
The next day, we were taken on a guided tour of London City with a local guide Ms.Mary. The places included Buckingham Palace - where we saw the change of guards, which still reminds us of the importance of the Monarch in the 21st Century. A sign board near the palace reads : "This is a protected site under Sec.128 of Serious Organised Crime and Police Act, 2005. Tresspass on this site is a criminal offence". In front of the Palace, is the Victoria Memorial with gold coloured statues. During the change of guards, huge gathering of visitors is seen at the gates. Westminster's Abbey is another attraction which is the Gothic Church of St.Peter. At the entrance to the church are showcases containing the relics of the monarchs.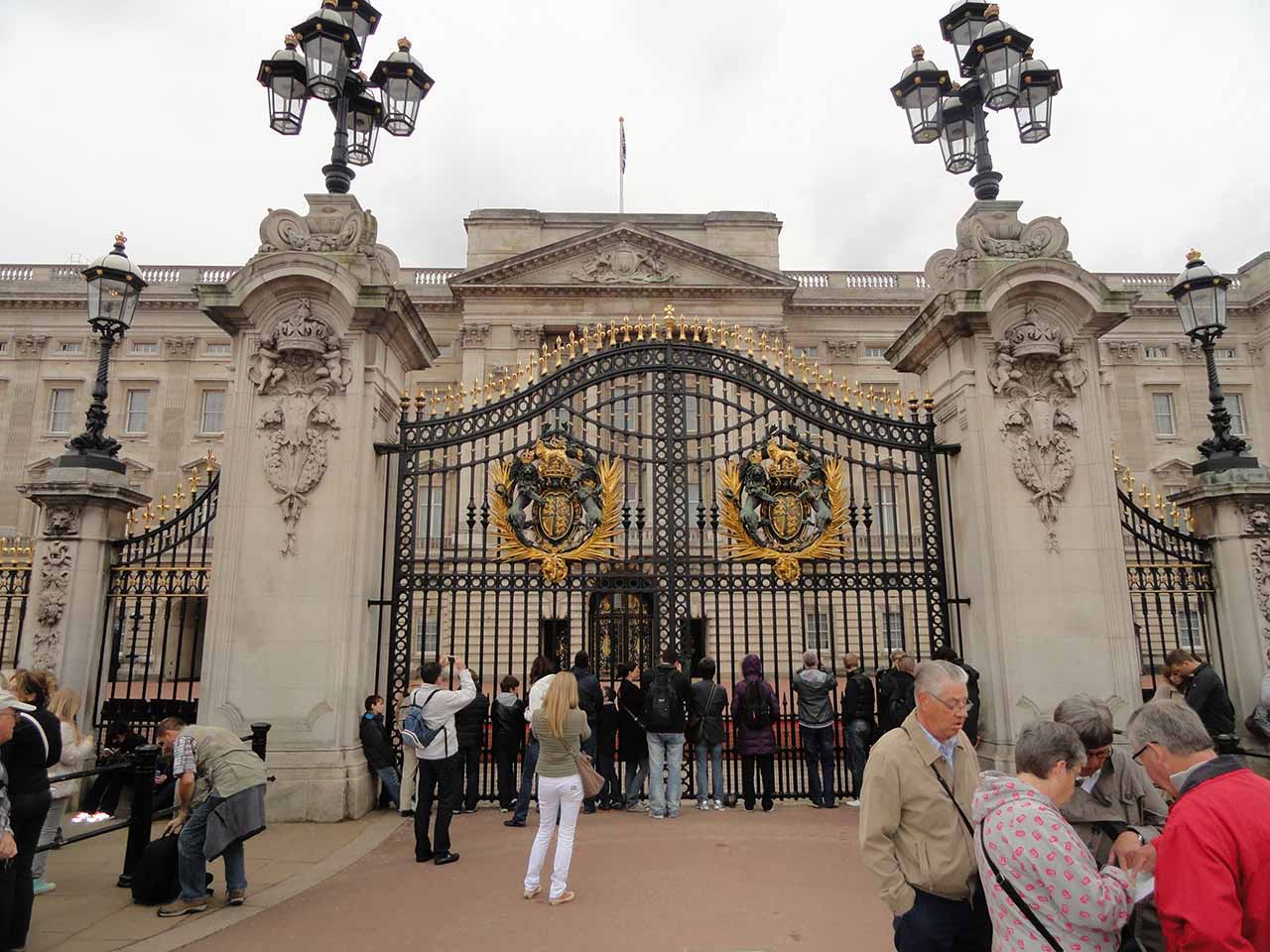 Buckhingham Palace
During the drive we saw the office of British Intelligence (MI6), Houses of Parliament, 10 Downing Street (residence of the British Prime Minister), BBC House, Big Ben, Tower of London (Her Majesty's Palace and Fortress on the banks of River Thames), Trafalghar Square ( a public square housing Nelson Column and iconic stone lions), Picadilly Circus (a junction connecting Regent street with Picadelly street), St.Paul's Cathedral (the seat of Bishop of London), Tower Bridge commonly known as London Bridge, Hyde Park (one of the largest parks in Central London famous for its Speaker's corner where any individual can express his opinion from a higher podium).
Madam Tussauds Wax Museum has wax statues of many of the important personalities in the world. It provides an opportunity to the visitors to take photographs with the statues. We took photographs with the statues of Hollywood celebrities like Brad Pitt, Anjelina Jolie, Julia Roberts, Johny Depp, Shrek, bollywood celebrities like Amitabh Bachchan, Aishwarya Rai Bachchan, Political figures like Winston Churchill, Queen Elizabeth, Adolf Hitler, Inventors like Albert Einstein, and religious heads like the Pope, Dalai Lama etc.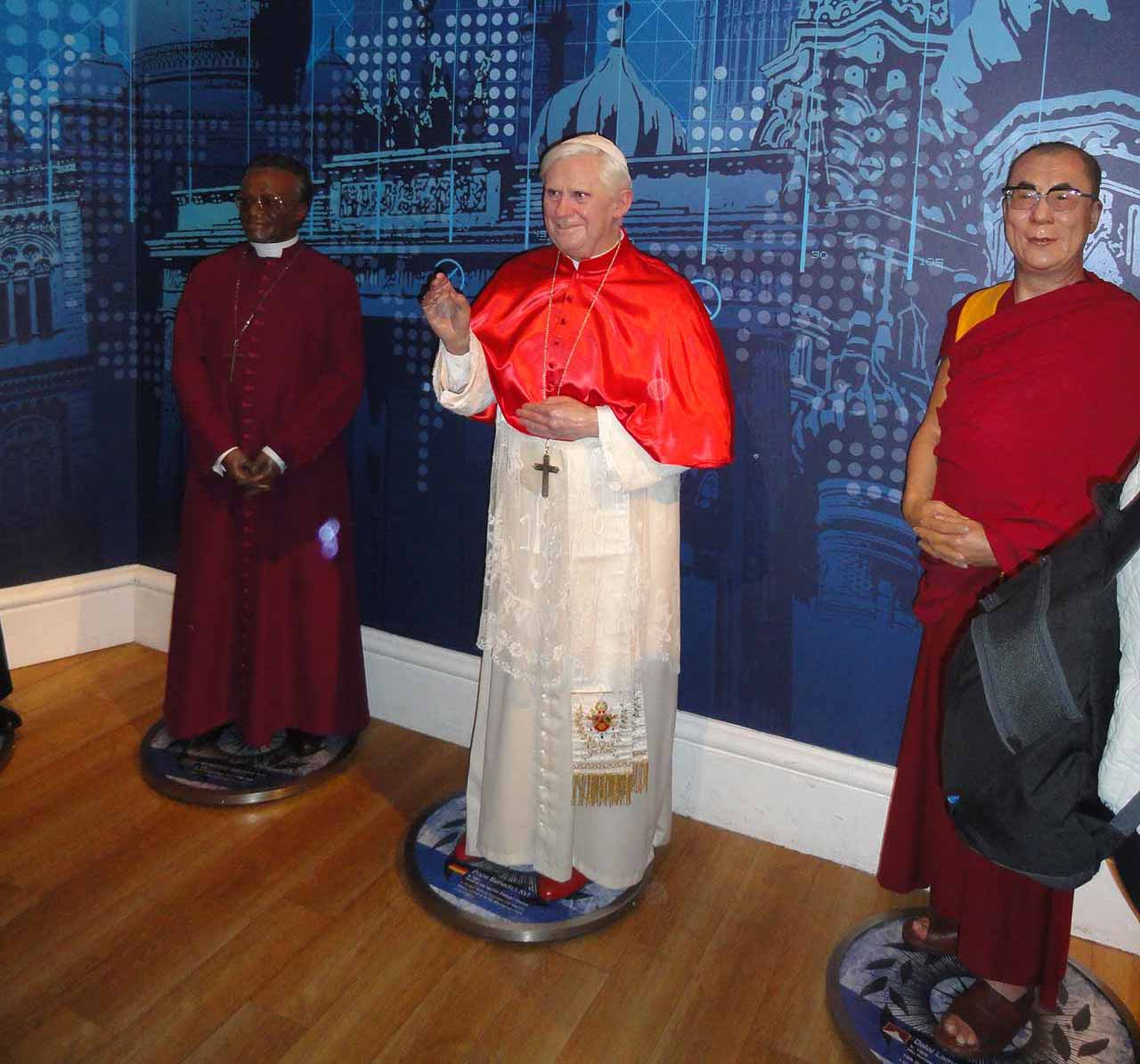 Wax statues at Madam Tussauds
London Eye over the River Thames is a huge wheel structure 135 meters in height with cubicles around it for the visitors to view the city when the wheel rotates. It provided a bird's eye view of the city of London.
It was a memorable experience visiting so many places in London with the guide providing information in typical English language. What was remarkable to see during the local tour was a bullet shaped building and a cucumber shaped building.
Day 3 - PARIS
The trip to Paris was an experience by itself. We were taken by bus to Folkestone Station by Mr.Marcel, the driver to board a Eurotunnel train to Calais in Paris, France. The significance of this train is that the entire Bus in which we were travelling from London was taken inside the compartment of the train and the train left for Paris with the Bus and us on board at a very high speed through Eurotunnel under the sea. We could get down from the bus and traverse through other compartments and never felt that we were travelling under the English Channel at a high speed.
Travel time from London to Paris was 6.1/2 hours covering a distance of 450 kms as it covered partial travel by road, then by train and again by road. On reaching Paris, we checked into Hotel Forest Hill Meudon. We had a wonderful cruise on boat Bateux-Mouches on the River Siene in Paris covering some of its stunning monuments.
Day 4 - PARIS
Next day was a guided tour of Paris city which included magnificent Eiffel Tower twice - once on the cruise and second time at midnight to see its illumination effect. Obelisk at Place de la Concorde is a major square in Paris. It is called Obelisk as it houses a obelisk of a height of 23 meters at the centre.
Next was the majestic Arc de Triomphe, a monument at Champs-Elysees built in honour of those who died in the Fench Revolution. Other places included magnificent Opera, Town Hall, National Assembly and famous Notre Dame Cathedral, a historic Roman Catholic Marian Cathedral, Dome of Invalides also known as the National Residence of Invalides contains tombs of Napolean, his family memers and his officers, and Ritz Hotel at Vendome Square laid out in 1702 has spiralling columns.
Later during a visit to Fragonard Perfume Museum, we got to smell different variety of perfumes and to buy some.
The evening was most entertaining witnessing the cabaret dance show at Paradis Latin followed by an illumination tour of Paris City at night to witness the illumination effects of shops, streets, buildings and most of all Eiffel Tower at midnight.
Overnight stay was at Hotel Forest Hill Meudon at Paris.
Day 5 - BELGIUM
On day 5, we travelled from Paris to Brussels, Belgium, a city well known for diamond trading. Of course, we could not shop for diamonds. We were joined by Mr.Oliver as our tour guide. He told us that besides diamonds, Belgium is famous for cholocates.
On that day we visited Manneken Pis Statue also known as Fountain of Little Boy (it is a bronze statue depicting a naked boy urinating on the founain. It is no longer naked but is covered by suits of different colours every day. According to one version of the legend, a little boy named Julianske happened to be spying on the attackers of Brussels city and as they were preparing to bomb the city, he urinated on the burning fuse and thus saved the city.) While moving to the grand place, we could see the Statue of Luck.
Grand Place is the busiest square in Brussels, Belgium filled with tourists from all over the world. It is surrounded by Town Hall, Breadhouse and gildhalls. The town hall is 315 ft. tall with statue of St.Michael slaying a demon. At Grand Place, we purchased chocolates of different varieties at affordable cost. Later we saw Municipal Museum, St.Hubert's Gallery, Royal Palace, and Palace of Justice also known as Law Courts of Brussels.
While having lunch in one of the Indian restaurants in Brussels, Belgium, we could see trams plying on the roads. It was a delight to see beautiful roads in Belgium with discplined traffic flow.
Finally, we visited Atomium, built in 1958 for Brussel's World Fair designed in the form of an atom. It is reportedly 102 meters tall with 9 round spheres of 18" each made out of stainless steel.
For overnight stay we moved to Amsterdam late in the evening and stayed at Hotel NH, Amsterdam.
Day 6 - NETHERLANDS
We visited the Keukenhof Gardens (Tulip Gardens) in the morning. It was an out of the world experience to see different varieties and colours of tulip flowers acres and acres together (80 acres). You would need a full day or more time to see and photograph each and every variety of the flower. Being on conducted tour, we could spend allotted time only at this beatiful garden. By 15th May, the tulip flowering season gets over. We were there in time just before the end of the flowering season. There is also a Windmill inside the garden which was built in 1892. This garden is a photographers' delight.
We also visited a Cheese making farm- Jacob's Eetkamer (where lunch was served prepared in a van by GourmIndia), wooden shoe making factory and clock making factory.
In the evening we went on a canal cruise on Amstel River covering cargo landing, central station, railway bridge restaurant, old city, Northern Church, House Boats, Warehouses convered into houses, Western Church, Rights Museum, Nasty Canal (17th Century) and American Hotel. It is said that Amsterdam consists of 90 islands with 1200 bridges over the canal in Amstel River.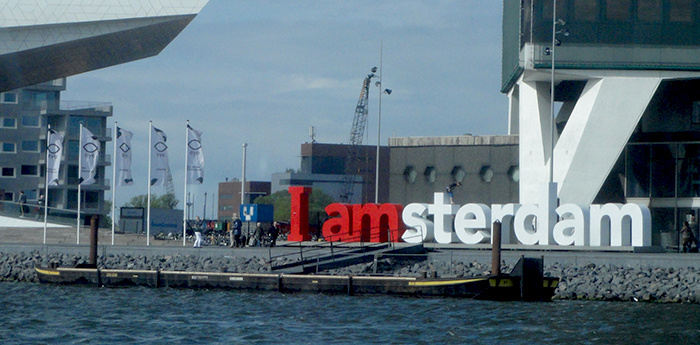 Cruise on Amstel River
Stayed at Hotel NH at Amsterdam for the night.
Day 7 - GERMANY
We moved on to Cologne, Germany by bus. It is a 300 kms journey which takes 4 hours. Lunch at Bombay Palace Hotel at Cologne. After lunch we moved on to see the magnificent Cologne Cathedral also known as St.Peter's Cathedral having two spheres. It is 515 ft in height and one of the most visited sites in Cologne,Germany. The tour guide told us that it took 600 years to build this church which was completed in 1880 surviving two World Wars.
Later, we went on an hour's cruise on River Rhine from Bakarak to St.Gouvas past medieval castles (one particular castle reminded me of the horror stories), vineyards and little towns. The Rhine river originates in Switzerland and passes through Austria, Germany and other countries covering a distance of 1320 kms.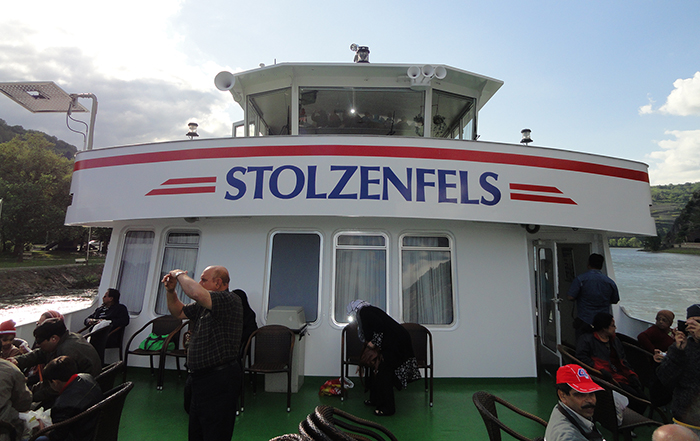 Cruise on Rhine River
Night stay was at Hotel Achat, Hockenheim.
Day 8 - SWITZERLAND
It was time to visit Switzerland, the land of icy mountains. On the way from Hockenheim to Switzerland, we had a stop over at Drubba Centre, in the heart of dense black forest (famous for black forest cakes) 160 sq.kms in area. This place is famous for cuckoo clocks which work on weight mechanism made out of wood and musical parts made in Switzerland. The Drubba factory displayed watches from the early invention days. The representative in the picture explained the mechansim of different clocks made over the centuries in wooden antique style, chalet clocks, carved type clocks, shield type clocks and the modern ones.
The speciality of the cuckoo factory is at the stroke of 12.00 noon, the door at the top front part of the structure opens, cuckoo bird comes out and makes the sound "hoo hoo hoo hoo", the dancing dolls in the gallery take turns to move in a circular fashion till the music lasts for a few minutes. It is a spectacular sight to watch the dolls dancing to the tune of the cuckoo.
The mouth watering black forest cake available in the factory compound is a tourists' delight.
From Drubba, we moved on to visit Rhine Falls at Neuhausen, Switzerland. This is considered as the largest waterfalls in Europe with a height of 25 meters and width of 150 meters. The drive to the waterfalls was through a motor boat.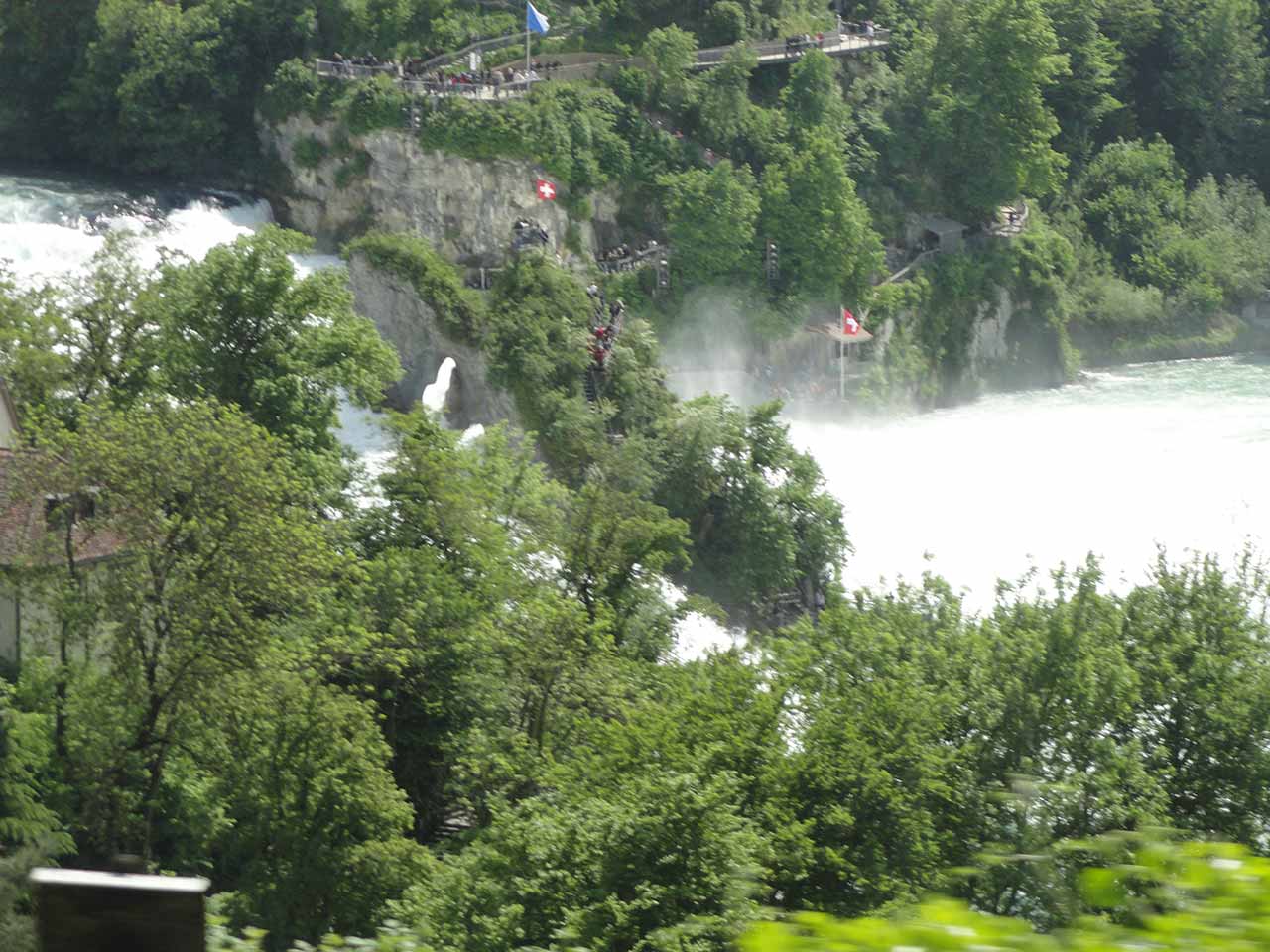 Rhine Falls
Thereafter we reached Zurich and visited Bahnhofstrasse, one of the world's most expensive and exclusive shopping avenue lined up with Banks, shopping arcades and boutiques. St.Peter's Church built in 1706 is one of the oldest churches in Switzerland. The Fraumunster church in Zurich is the largest church made of stained glass windows created by Marc Chagall (French Artist). Grosmunster, a 12th Century Protestant Church is another important monument to see in Zurich.
After the tour of Zurich, we proceeded to Engelberg, Switzerland for a stay at Hotel Terrace which is at an altitude of 200 ft. above sea level. The speciality of this Hotel is that you need to go through 2 tunnels to reach the lobby of the Hotel. Between one tunnel and another there is a lift. Of course, you need to carry your own baggage.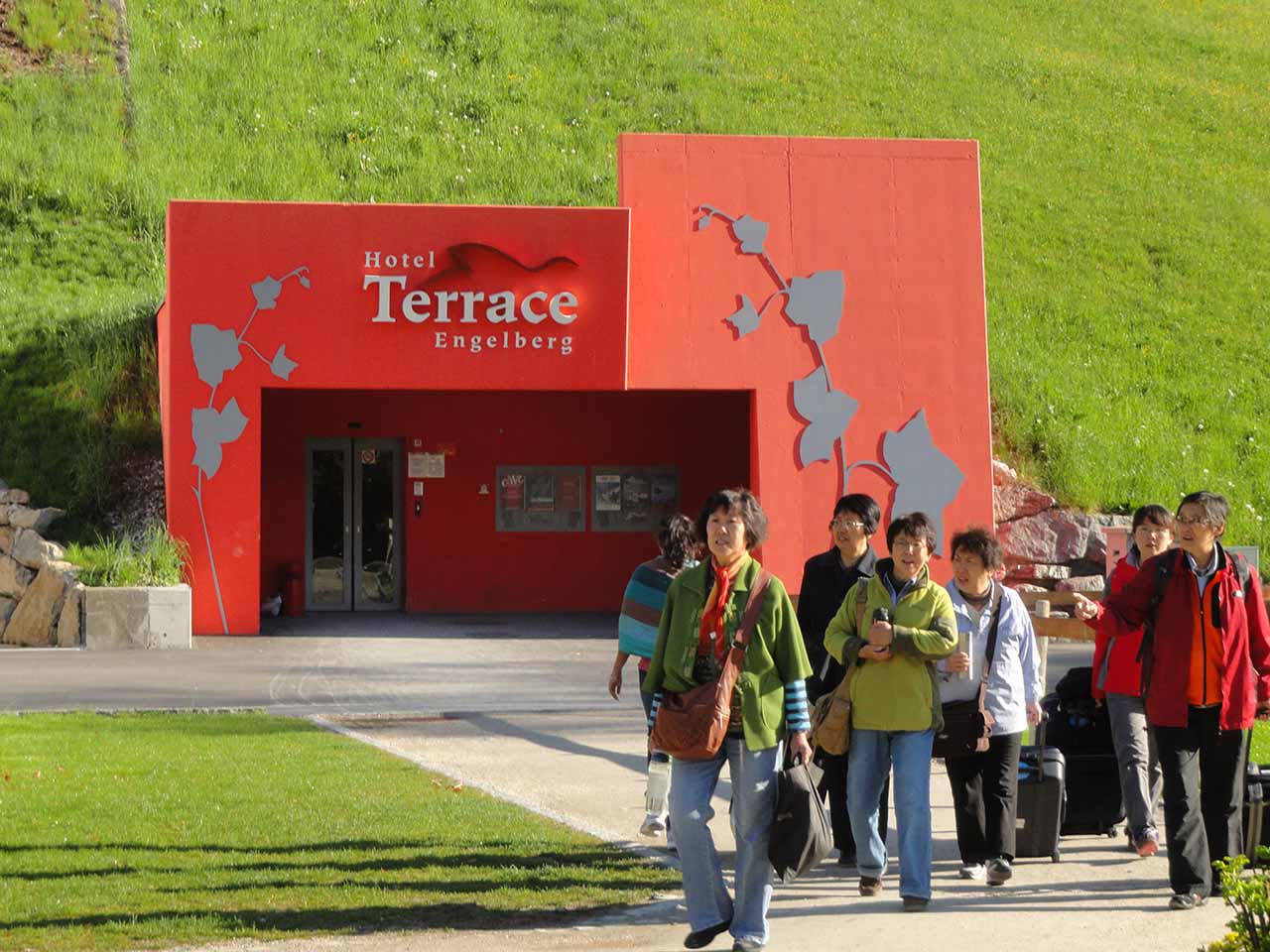 Hotel Terrace,Engelberg,Switzerland
The journey by bus from Hockenheim, Germany to Black Forest took 3 hours and further 1 hour to Swiss Border, thereafter 1/2 hour to Rhine falls, from there to Zurich 1 hour and further 1.1/2 hours to Hotel at Engelberg. Mr.Luigi, a handsome gentleman was our driver during this leg of the tour.
Day 9 - SWITZERLAND
It was a wonderful sight outside the Hotel in the morning with fog and snow fall. After breakfast, we proceeded towards Mount Titlis. This is the highest peak in Switzerland at 10,000 ft. The cable car ride through the snow clad mountains was an exhilarating experience. The cable car segment has a rotating cable car in the final leg of the mountain climb to give you a round about view of the ice clad mountains at a height of 10,000 ft.
The visit to Ice Cave at Mount Titlis was a shivering experience as it was freezing inside. The Ice Flyer is another area of visit through another cable car where you can skate or use the plastic moulds for sliding down the icy slope. There is an eating joint at the mountain by the name "Galti Stubli" meaning refreshmnt lounge. Some gentlemen were seen having chilled beer in these icy conditions.
On the way down, you can see the entire town of Engelberg on a bird's eye view from the cable car.
Later on, we visited Lucerne to see the Lion Monument, Kappelburcke (world's oldest covered wooden bridge built in 1333 over Reuss River) and Schwanenplatz also called Swans Square which is a starting point for visits to downtown area for shopping, particularly chocolates. From Lucern, we travelled back to the hotel at Engelberg.
In the night after dinner we had a late night cultural programme in the "Cave" at the basement of the hotel.
Day 10 - SWITZERLAND
After beakfast at Hotel Terrace, we moved on towards Interlaken, which is the main transport gateway to the mountain and lakes of the area. It has many cafes and shops for swiss watches. You can see variety of swiss make watches and shop for them.
It takes about one hour from Engelberg to Interlaken.
Thereafter, we moved on to Jungfraujoch mountain at an altitude of 11782 ft. above sea level. To reach Jungfraujoch mountain, we drove by bus till Lauterbrunnen and thereafter by cog wheel train to Jungfraujoch. The cog wheel train stops at Wengen, Kleine Scheidegg and Eigerwand Stations. It goes through a tunnel of 9.2 kms through the icy mountains of alps before reaching Jungfraujoch mountain. The train halts at Igawand and Iselmere for photo sessions and to see the glaciers. The Jungfraujoch Railway Station is at an altitude of 11,333 ft.
It takes 2.1/2 hours to reach Jungfraujoch mountain from Interlaken. The temperature was minus 1 degree at Jungfraujoch. Hence, wearing warm cloches is a must, even in May. We had a family with hardly any warm clothes or wollens. The biting cold made their stay on top of the mountain quite uncomfortable. Other travellers from the group had to help them out with woollens.
The breathtaking sites were Jungfraujoch Peak and Alethsche Glacier. There is also an Ice Palace which displays sculptures made out of ice. You need to keep yourself warm in the Ice Palace because it is very cold out there.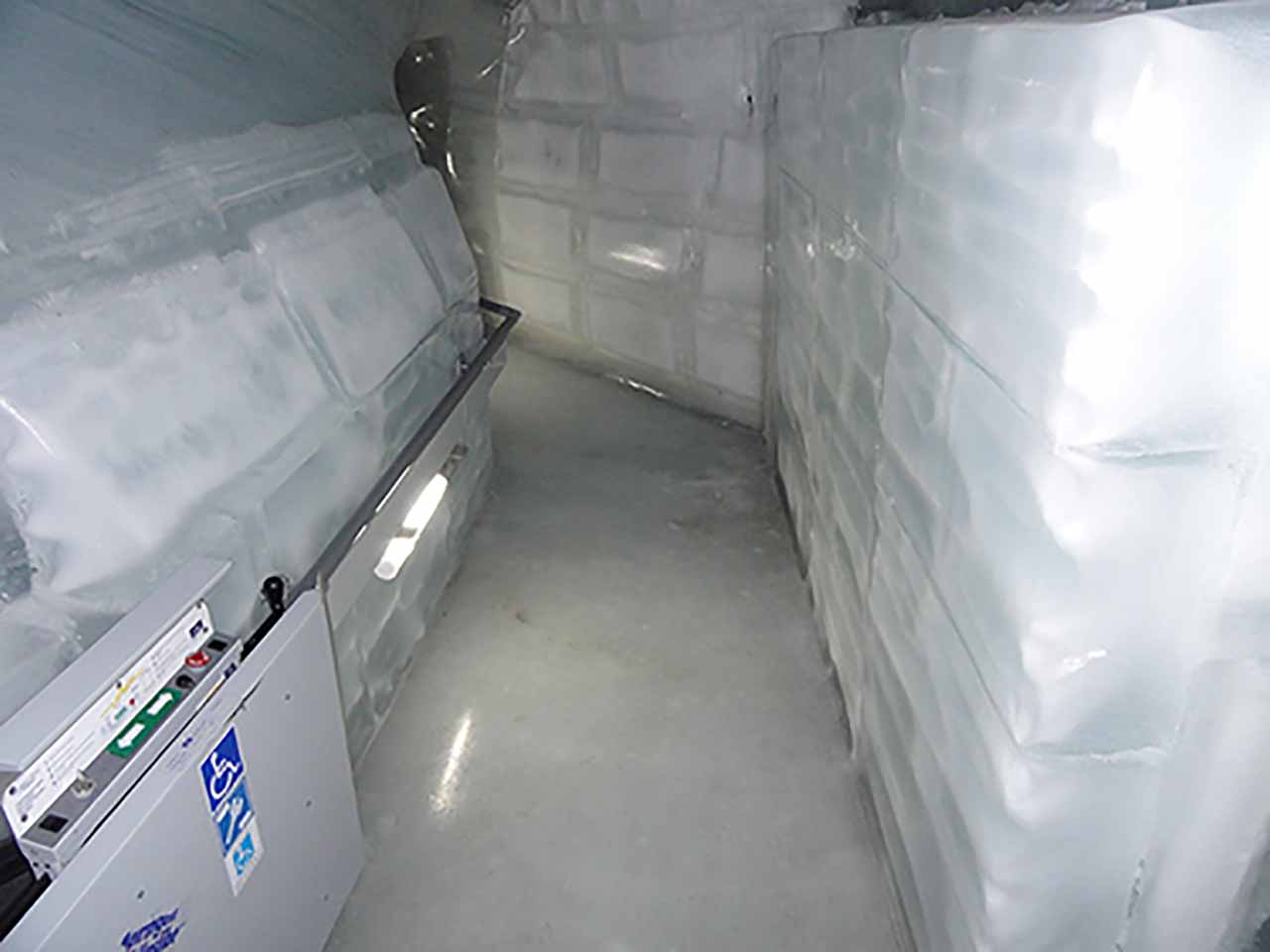 Entrnace to Ice Palace at Jungfraujoch
Since Jungfraubahn was celebrating its centenary year in 2012, we were issued a memoir passport by the Jungfrau Region BE authority as a souvenir.
You can send postcards from Jungfraujoch mountain post office which is the highest altitude post office in the world with its own special postmark. We sent pstcards from there to our children which were received by them within 15 days.
Day 11 - AUSTRIA
We moved on from beautiful Switzerland to Vaduz, capital of Liechtenstein (small nation with a population of about 5200). The bus journey was of 2.1/2 hours. There we saw Castle of Vaduz i.e., where the Prince of Vaduz resides. There are street cafes and vineyards in Vaduz for relaxation. Rathaus, the City Council building is another structure to be visited at Vaduz.
From Vaduz we reached Austia border in half an hour and travelled for another 2.1/2 hours to reach Wattens to see the Swarovski Crystal Museum. It was a awesome sight to see variety of crystals all across the walls and in show cases. The museum boasts of 55 million cystals in its collection.
From Crystal Museum, we moved on to Innsbruck, Austria. Lunch was at Madhuban Restaurant, Innsbruck. After lunch, we proceededto see the golden roof balcony in the structure known as 'Goldenes Dachl'. We also saw statue of King Leopold V., St.Ann's Column (slender white column standing in Maria Strasse erected in 1706 to commemorate repelling of Boverian troops on St.Ann's day), Innsbruck's Arc of Celebration & grief (Trimphforte) and Heiblinghaus (famous for its baroque facade and the building resembling a wedding cake).
Overnight stay was at Hotel Aplinpark, Innsbruck.
Day 12 - ITALY
It was time to move to Italy. We checked out from Innsbruck, Austria and moved to Venice, romantic Italian city. Venice consists of a group of 117 small islands, 70 canals and 400 bridges. Venice has two important canals viz.,Gudica Canal and Grand Canal. On the way we passed through Tower of Verona i.e., home of Romeo and Juliet.
It took us one hour's drive to Italian border from Innsbruck and 5 hours to Venice. The drive was over Mussolini's Bridge of Liberty (2 kms over Adriatic sea) and then a boat ride over Guidica Canal to St.Mark's square in the heart of Venice. During the boat ride, we could see huge Cruise Ships anchored en route. St.Mark's Square in Venice is filled with tourists which is also the most photographed square in the world. It is also referred as drawing room of Europe.
Thereafter we saw the Ducal Palace (also known as Doge's Palace built in venetian Gothis style is one of the 11 museums in Venice), the Bridge of Sighs connecting two buildings over water (it is called Bridge of Sighs because legend has it that from the bridge one could hear the sighs of prisoners who were taken from one connected builing to the other for execution through this bridge), the Clock Tower and St.Mark's Basilica. Later, we visited Murano's Glass Factory, to see art of creating famous venetian blown glass.
Overnight stay at Hotel Marconi, Padova.
Day 13 - ITALY
From Venice, we moved on towards Florence, Italy. First we proceeded to Pisa to see the marble Cathedral called 'Field of Miracles'. We also visited the 'Leaning Tower of Pisa' also known as Bell Tower (DOMO). It took 100 years to complete it made out of white marble. The tower is known to be leaning 14.9 ft from the centre. Our Tour Manager told us a trick on photographing the tower. Standing at a distance from the tower at a particular angle, he said raise both your hands in such a manner as if you are supporting the falling tower and take the photograph. The trick worked and we took many photographs showing us as providing support to the falling tower.
Then we proceeded to Florence where we saw the impressive Deumo also known as St.Mary of the Flower's Cathedral. It is called Deumo because its dome dominates the skyline. Built in the 14th Century, it had taken 100 years to complete it. It has a clock which operates anti-clockwise and its doors are inscribed with pictures from the bible in golden impressions. Its door is known to have cost 450 million Euros (in today's currecy).
We were impressed with the 14th century built Palazzo Vecchio Tower also known as Town Hall of Florence is a massive structure and considered to be one of the most impressive town halls in Europe. Other places of interest were Florence's most distinguished bridge on Arno River - Ponte Vecchio (a bridge on which shops are built). Also visited Signoria Square with a fountain of Neptune in front of the Town Hall.
The bus journey from Venice took 4 hours to reach Pisa at a distance of 260 kms. From Pisa to Florence it took further one hour.
Overnight stay was at Hotel Mirage at Florence.
Day 14 - ITALY
Visit to Rome & Vatican - From Florence the bus drive to Rome was of 4.1/2 hours. We were joined by Mr.Jovanni as our tour guide. On arrival at Rome city, visited Piazza Venezia (the central hub of Rome), the colossal Victor Emmanuel II Monument (locally known as Altare Della Patria) and saw some of the ancient ruins of Rome during the drive across the city.
One of the interesting sites was the famous Trevi Fountain. According to legend, any visitor throwing a coin over his/her left shoulder into the Fountain is sure to return to Rome. Most of us threw coins (some had to borrow) over left shoulder fervently praying that we return to Rome as the legend predicts.
From there, we proceeded to Vatican, the smallest country in the world with a population of 1000, and radius of 2.5 miles x 2.5 miles. It was declared a state or nation in 1929. It is the holy place of Christian community all over the world.
At the centre is the St.Peter's Basilica, one of the most famous monument of paintings and sculptures. Some of the paintings of Michelangelo are seen inside the Basilica. Vatican is one of the largest churches in the world. It holds the tomb of St.Peter at the basement below the alter of the Basilica. The Pope's residence is on the right side of the entry point.
St. Peter's Square in Vatican is the large open space at the entrance of the Basilica where Pope holds mass on celebration occasions with a large congregation. It is estimated that 70 to 80 thousand people visit the Square and Basilica every year.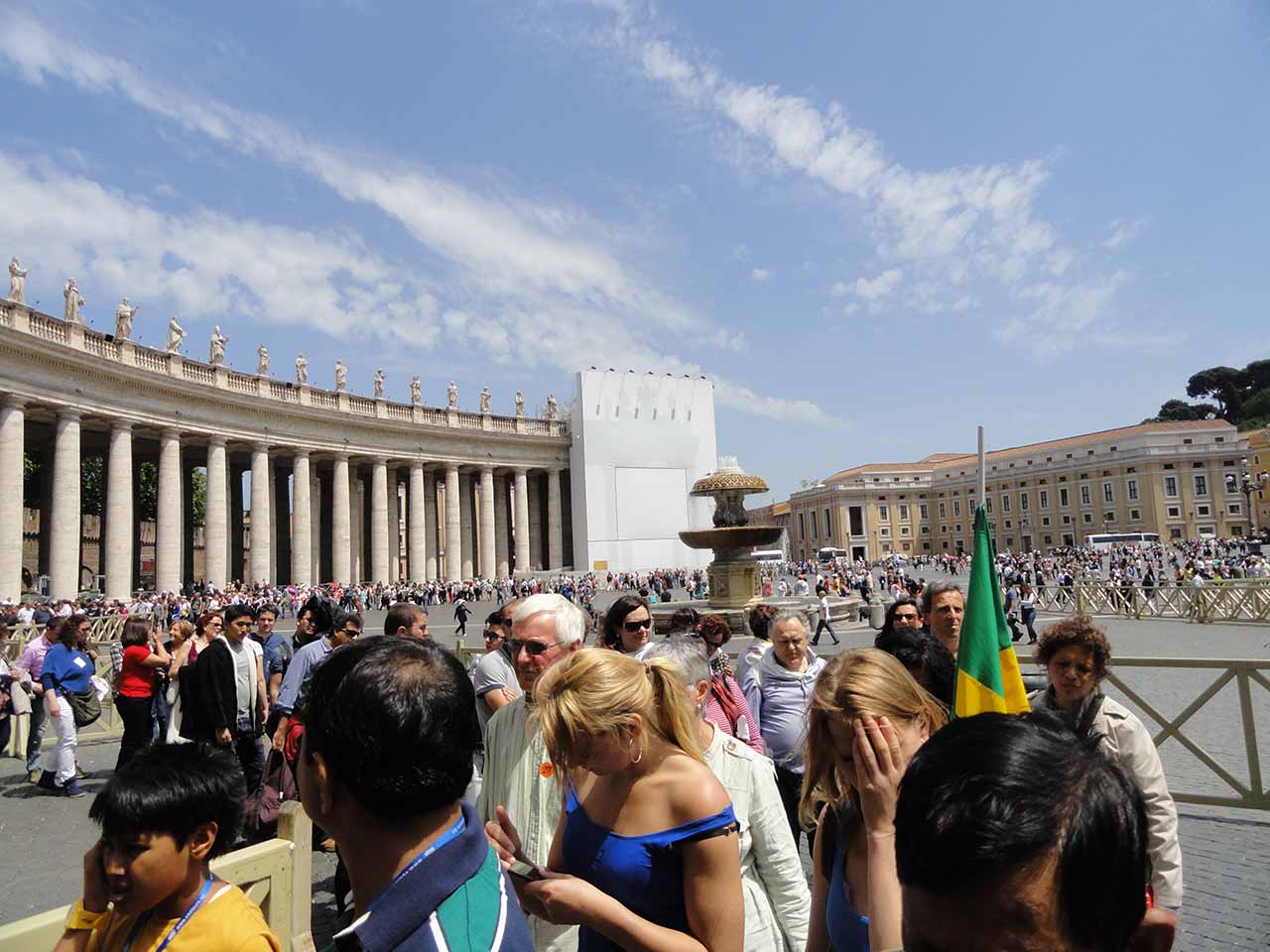 Vatican Square
Later, saw the 3D Rewind show at Rome. It is 3 dimentional historical journey through the history of imperial Rome. We also visited the Colosseum and saw the other ancient ruins of Rome.
Overnight stay was at Hotel Alessandrino, Rome.
Day 15 - RETURN
Before even we realised, the tour had come to an end. With a heavy heart, we checked out of Hotel and boarded Emirates flight from Rome to Dubai leaving at 15.25 p.m. at Rome and reaching Dubai at 23.15 p.m. From Dubai took another Emirates flight at 3.55 a.m. and reached Mumbai at 8.15 a.m. the next day.
It was a memorable tour driving through road by bus for about 4000 kms and by trains in between. The roads of Europe are so good that the Bus travelled at a minimum speed of 100 kms. Our Tour Manager repeatedly requested the group members not to stand in a moving bus. This was mainly for the reason that if sudden break had to be applied, instances have been seen by him where the passenger not only fell but was thrown out of the bus through the front glass. The journey was comfortable with intervening halts at comfort areas.
Summing Up !
The Tour Manager, was a senior person in tour operator's staff overseas and he ensured that we had enough time to visit places, get our food in time, do the shopping (wherever it was worth shopping), and made our trip quite comfortable with humour and anecdotes. His favourite saying as "wakie wakie" to wake up sleeping passengers on arrival at the destination.
It was a different experience to see all types and makes of cars like Wolkswagon, BMW, Honda Logo, Smart fortwo (small car), Lancia, Renault Clio, Mini Cooper, Zafira, Megane, Porche Artega, Jaguar, Mercedes, Lombargini, Ferrari,Citreon, Alfa Romeo Guilietta, Insignia, Peugeot, Porsche Firenze, Fiat Panda, Rexton, Toyota Yaris, Volvo, Kompressor, Picasso, Chrysler, WW Tiguan, Intercar etc. an super Bikes like Griesser Adventure, BMW R1200, CAN AM Sryder, 3 wheelers like NEVC4S, and covered 2 wheeler -Verhelst on the roads in Europe.
Some important Tips to travellers !
Plan your tour in advance and select your tour operator. Booking the tour in advance provides benefit of discounts provided by tour operators. Select your tour operator depending upon the company you expect on the tour. I decided on SOTC as the group consisted travelers from Chennai, Bangalore, Pune, Delhi, Mumbai and other cities. It was a cosmopolitan group which made our entire journey quite enjoyable.
Your Tour operator will guide you on the Visa aspects because you need a separate Visa for U.K. and a separate Visa for Schengen countries consisting of remaining European countries on the tour. Other than having your passports ready, a number of documents are required to be submitted for obtaining Visa, particularly to U.K. (London).

You will need foreign currency during the tour abroad, more so if you plan to do shopping. As U.K. is not part of the Euro set up, it is preferable if you carry some Sterling Pounds. For other European countries, you may carry Euros. If you plan to do shopping at Dubai Airport, it is preferable to carry US Dollars. You can always obtain and carry a EUROCARD from any bank which issues Euro Cards. Foreign Exchange Bureaus in your area can also issue foreign currency on your providing details of your passport and ticket. If you have Euro Card and some currency on hand, your tour will be comfortable.

In U.K. and Europe, for using toilets, you have to pay charges. Having small change ready after reaching there would be advantageous.

You can carry an International SIM Card for cellphone. There are reputed companies like Matrix, Lyca Mobile etc. who issue international SIM Cards.

A word of caution :

If your cell phone is installed with software like "Cybercop", please either remove the software from your handset or take another handset which does not have such software because when you change the SIM card on reaching London or any other destination abroad, cybercop software deems it that your handset is unauthorisedly used by someone else and starts sending SMS messages from abroad to whoever you have provided as contacts at the time of purchasing the handset. Initially, the SMSes are sent every 4 hours, then the frequency reduces to 1 hour and thereafter every half an hour. These SMSes are costly and you will suddenly find that the money that you had paid at the time of purchasing the international SIM card is either exhausted or overdrawn. I had a similar experience when the cell phone started sending SMS messages to my children in India right from insertion of the SIM card at London airport. Children probably thought that we were keeping them informed about our movements. By the time we reached Switzerland, the bill had reached Rs.15,000/- whereas I had made only five calls costing may around Rs.1,000/-. On reaching Switzerland I could get access to internet and immediately advised the company to block the card and to make doubly sure I removed the SIM card from the phone. Ultimately, after returning back, I was billed a total of Rs.20,000/- for SMSes which I had not sent but the software automated the messages.

Make sure that your tour operator obtains Insurance cover for your trip. Else, you may arrange for the same.

Obtain and keep ready your latest Bank statement for last 6 months which should include a balance in the account to the extent of your tour cost. Also keep your Income Tax Returns for the last 3 years ready. If you are salaried person, salary slip for last 6 months will be required. Also NOC from employer if you are working in Central or State Government undertaking together with leave sanction letter. For businessmen and retired persons, details will be provided by the tour operator. These will be required for VISA purposes.

It is advisable to carry basic medicines for cold, fever,pain, headache etc. Any other medication required by you, will have to be carried with you for the duration of the tour.

During the month of May, we found that the climate in U.K. and European countries was moderate except for Switzerland, particularly Mt.Titlis and Jungfrau. It is also known that it sometimes rains in Switzerland. So, carry warm clothes including body warmers.

Enjoy the Grand Tour of Europe !