About Dubai
Dubai is one of the important cities in the United Arab Emirates (UAE). It is renowned for shopping of luxury items, modern architecture in designing and constructions of its buildings, and an active nightlife. It is also one of the prominent business hubs in the Arabian Peninsula. Dubai has turned its focus on free trade and tourism after a brief lull in its economy. December, January and February are the moderate climate months to visit Dubai. Law enforcement is at its best in Dubai. It is one of the cosmopolitan cities around the world with people of different faiths and countries reside, work and earn at this glamorous city. It show cases Dubai Mail - world's largest shopping mall. It is also known as "a city of Gold" as a tour of Deira area in Dubai, you will find a large number of jewellery shops and outlets.
Dubai Creek houses some of the most famous tourist attractions like the Dolphinarium, Cable Car, Camel Ride, Horse Carriage and Birds Shows.
How to reach?
Dubai is directly accessible from major cities across the globe by Air. From India, it is accessible by air directly from any of the major cities. Dubai is one city which has internally Tramways, Mono Rail and Metro Rail network and two large airports.
Where to stay?
Dubai has 97 five star hotels, 115 four star hotels, 77 three star hotels, 18 guest houses and hotel apartments besides the most prestigious and expensive seven star hotel Burj Al Arab.
We stayed at Legacy Hotel Apartments on the 9th floor at Al Barsha Heights (Tecom), which was quite convenient for us for moving around the city. With two bed room hall and kitchen, the hotel apartment was well maintained and made our stay quite comfortable.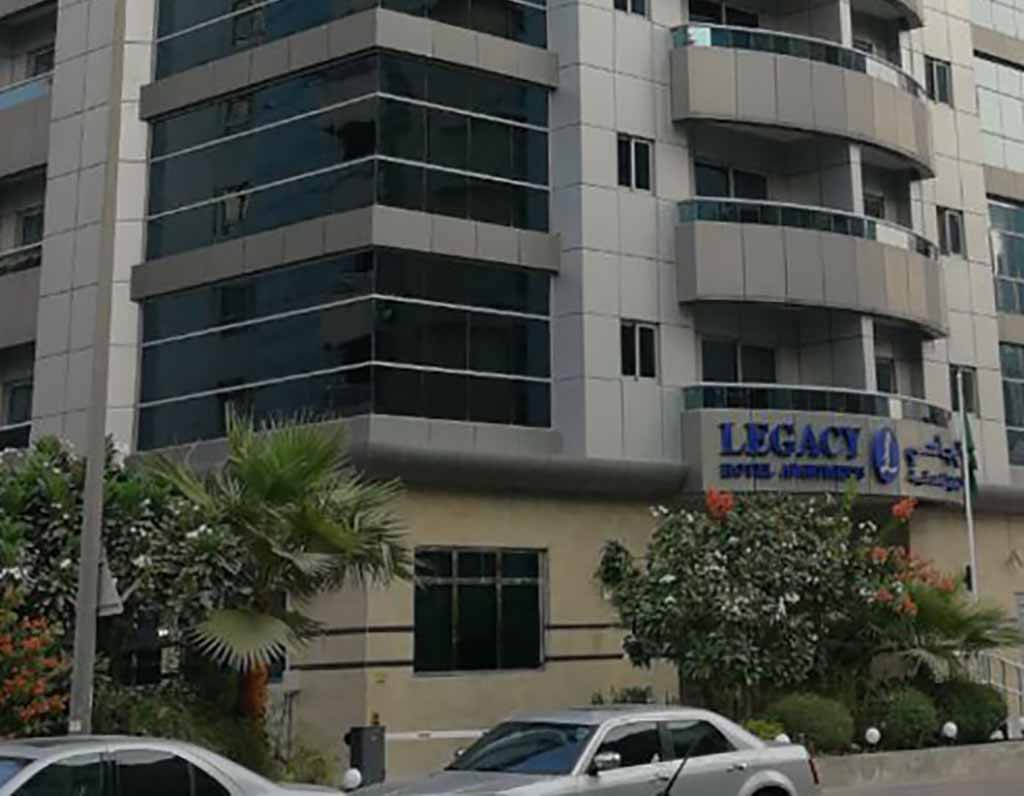 Legacy Hotel Apartments
What to see?
Creek Park
Located at the edge of Dubai Creek, this park is green and provides space for visitors to relax, make barbeque, spend time with family as an outing. It also houses the Dolphin Show which is a must watch. Lasting almost an hour, this show depicts how the Dolphins dance, jump and play around with lighting and music.

Walk in the Creek Garden
Dhow Cruise or Abra Ride
The Creek has spot for Dow cruise or Abra Ride. Dhow cruise takes you around the place in a large boat providing views of Old Dubai and the New Dubai, whereas the Abra Ride takes you from one end of the Creek to the other and brings you back.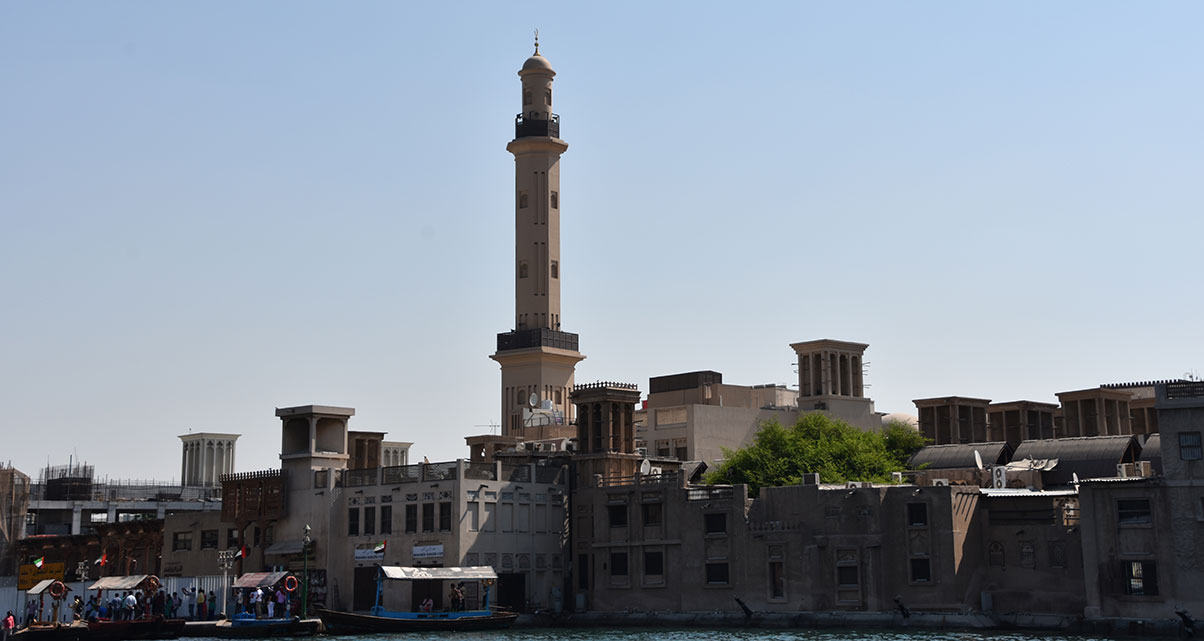 Abra Ride across Dubai Creek
Bur Dubai Gold Souk
This part of Dubai houses the Gold shops. From luxury brands to many of the Indian brands are available here. This is a major spot for tourists to shop for gold jewellary.
Dubai Mall
Dubai's main focus for tourists is on shopping. The Dubai Mall is world's largest shopping mall with over 1000 shopping outlets, which has all known brands for luxury shopping. Other than luxury shopping items, it also houses an acquarium of different marine species.
Burj Khalifa
Located adjacent to the Dubai Mall, this architectural marvel is 160 stories high with a height of 829 metres. It has the world's fastest elevators which take 56 seconds (viz., less than a minute) to move from ground floor to the 124th floor, covering slightly more than 2 floors in a second. The observation deck on the 124th floor provides a panoramic view of the city of Dubai in all its grandeur. The view at night is at is best with illumination all around and a dancing fountain with colourful lights.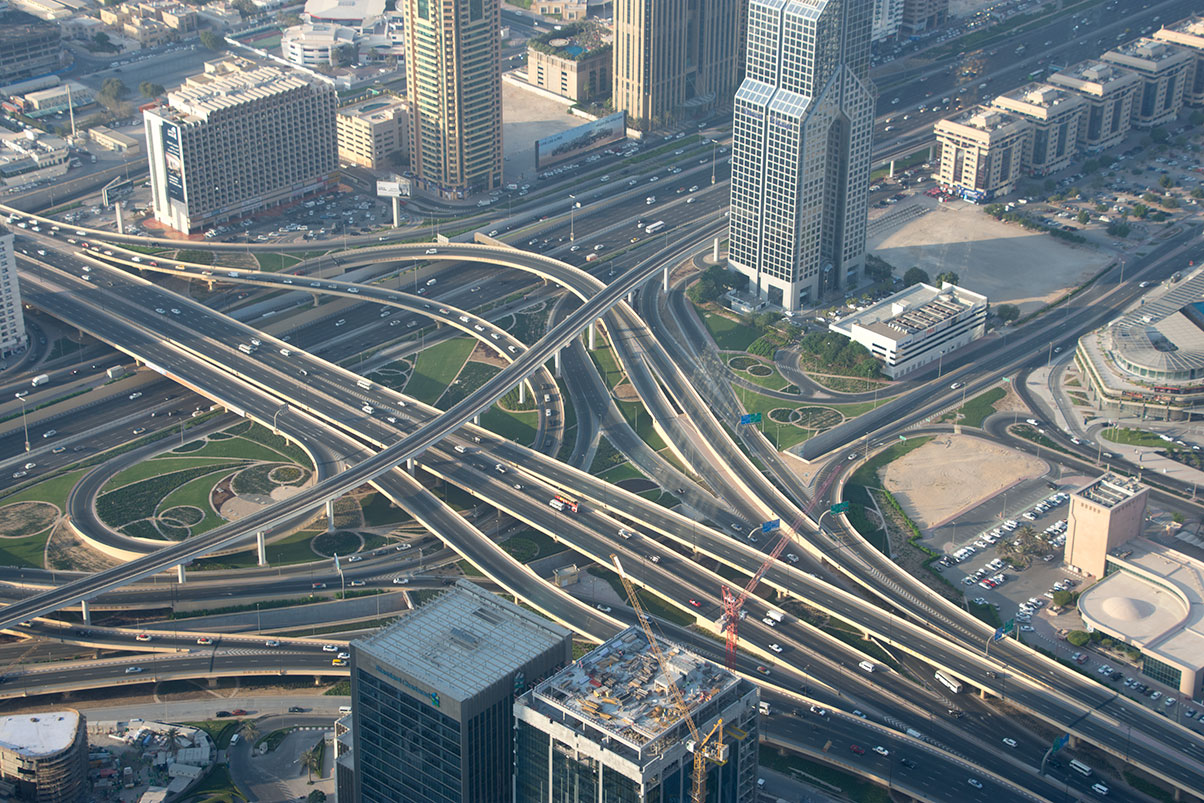 View of Dubai Roads from Burj Khalifa
Desert Safari
This is a thrilling four wheeler drive which takes you through the sand dunes and the vehicle rocks around while driving through the sand. The travellers generally scream during such rides but the ride is safe as the drivers are professionals. We had a Pakisthani driver who was more than happy to converse in Hindi with his co-passengers. The ride starts around 5.00pm and ends up with a scintillating show by belly dance, fire dance and local dance. The ride also includes camel ride, Henna painting and dinner at the show. The dinner will be completed around 7.30 pm and the ride back to Dubai takes about 1.1/2 to 2 hours.
Palm Jumairah
This three island archipelago was built by Nakheel, a Dubai Government owned company in 2006. You can take a monorail drive from any station to Atlantis Hotel (the end point) and see the palm Jumairah architecture during the ride. We boarded the Monorail at Gateway station and alighted at Atlantis Hotel and back.
Burj Al Arab
This is rated as one of the world's most luxurious hotels. Located on Jumeira road on the Kite beach, this hotel provides the best of facilities like optional chauffeur-driven Rolls-Royce, helicopter trips from an inhouse helipad, private beach access, luxury leisure at terrace with pools and cabanas and some of the world's best dining venues, including Nathan Outlaw at Al Mahara. It is accessible by sea, road and by air (it has a helipad).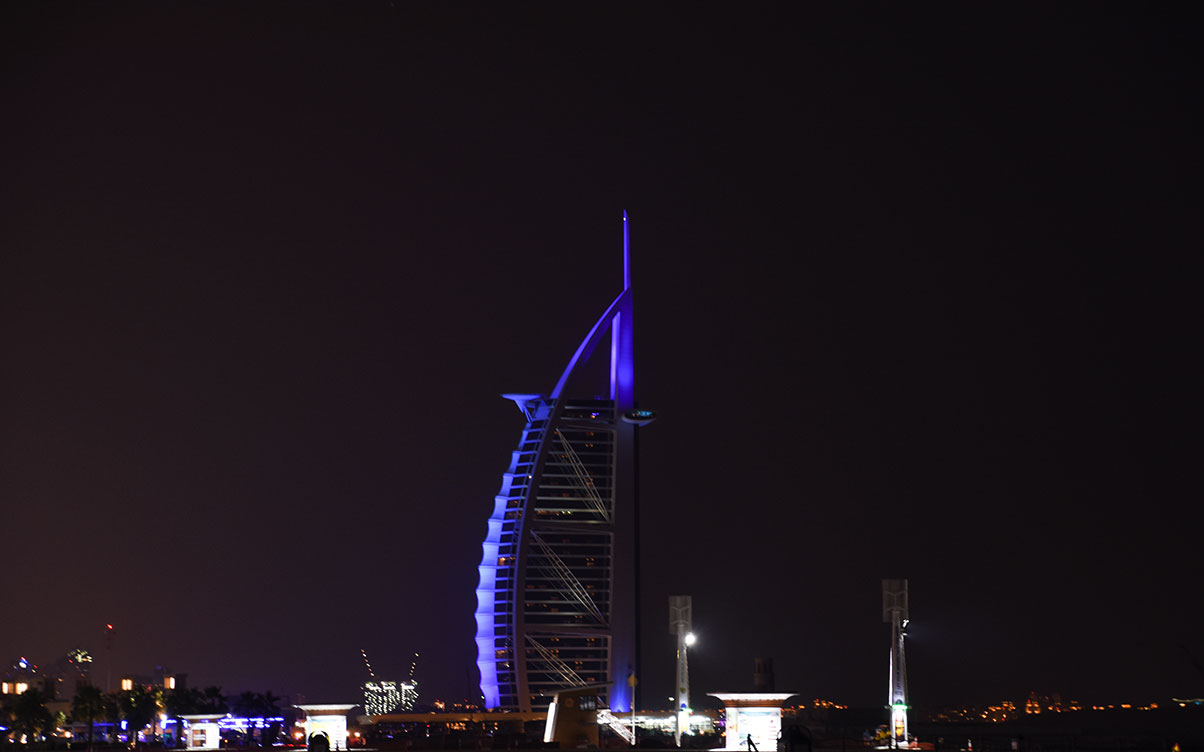 Burj Al Arab at night
Jumeirah Beach
This is a white sand beach. Not much activity on the beach except for relaxation during evenings. At the end of the beach is the luxurious hotel Burj Al Arab.
Dubai Miracle Garden
One of the most beautiful gardens in Dubai. It is reported to be world's largest flower garden. All the creations inside the garden are made of flowers of different makes and colours. Inaugurated in 2013, this garden is kept open to public from November to May. It is kept closed from late May till October during the summer season because of extremely hot climate. This year the garden opened for public on 7th November, 2017. Some of the main attractions are a huge teddy bear made out of shrubs and flowers, a castle, a full aeroplane of Emirates, different creatures like tortoises, flies, ducks etc.
Abu Dhabi Mosque
Another beautiful monument to be visited is Abu Dhabi Mosque. Made out of white marble stones, this structure contains number of picturesque domes. Thousands of tourists of different faiths visit this place every year to absorb its beauty and architecture. It is mesmerising to watch it in the evening when the lights come up.
Other attractions
Bollywood parks, Dubai Museum and Jumeirah Mosque.
Summing up
If you are a shopping freak, Dubai is the place for you !