Tour of Armenia
A proud country at the cusp between Europe and Asia, Armenia borders with Azerbaijan in the north-east, Turkey in the west, Georgia in the north and Iran in the south. Armenia is the first country in the world to adopt Christianity as a state religion in 301 A.D. and has its own alphabet dating back to 5th century A.D (with a monument dedicated to the Armenian alphabet!)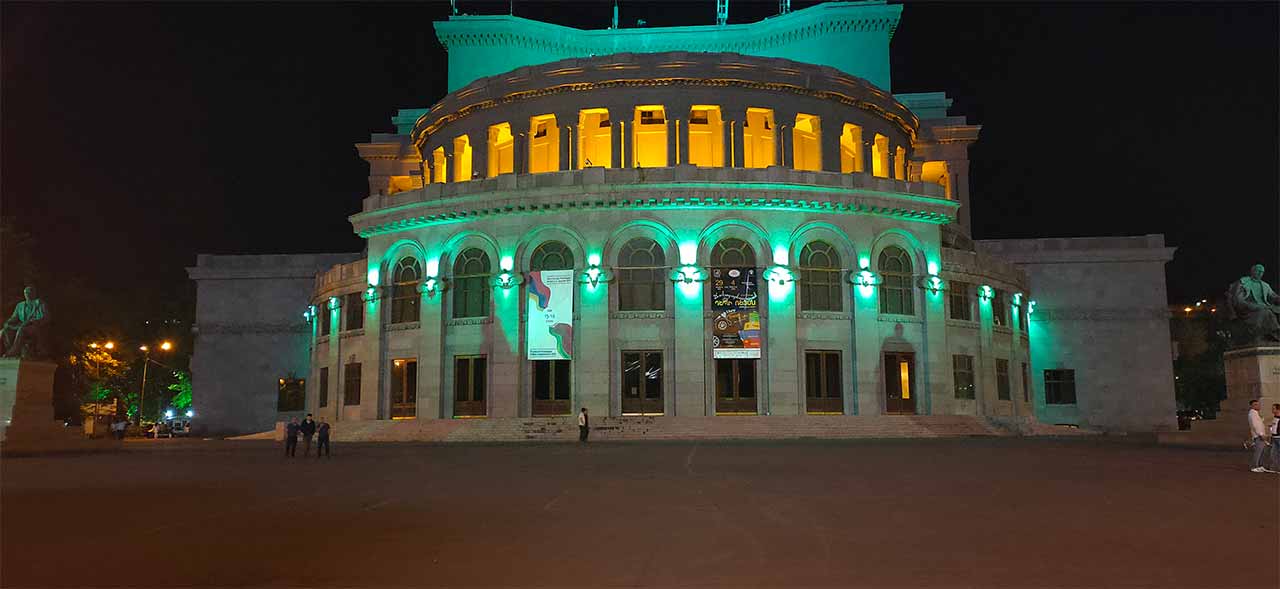 Royal Opera House
While completely impossible to cover the entire country in one trip, I did manage to see a good amount of Armenia with fair bit of planning and prior research. I stayed in Yerevan, the capital city and travelled around to see Armenia. In the first look it gives off the vibe of a quaint Russian town, almost an ode to its Soviet legacy. While the city does have its luxury cars and racing bikes, villages in Armenia also has motorcycles running on gas and old Lada cars almost in state of disrepair seen dominantly in villages. My tour guide remarked that 'Whatever runs on wheels, Armenians drive!".
Prior research to my travels showed that it is best to stay close to the Republic Square and I chose a hotel which was walking distance to the Square, which is the most popular tourist place in the city. It is lively and full of activity. It is claimed that it had the statue of Stalin in the middle of the Square and post the secession from USSR, the statue was removed. The place is abuzz throughout the day and hosts a musical fountain show in the evenings. The Republic Square also holds the History Museum of Armenia. Very close to the museum is the Remembrance Park for the 1915 Genocide as well as the Metro station. The famous Vernissage Market is 5-7 minutes walking distance and is the market where all local artisans display and sell their wares to tourists.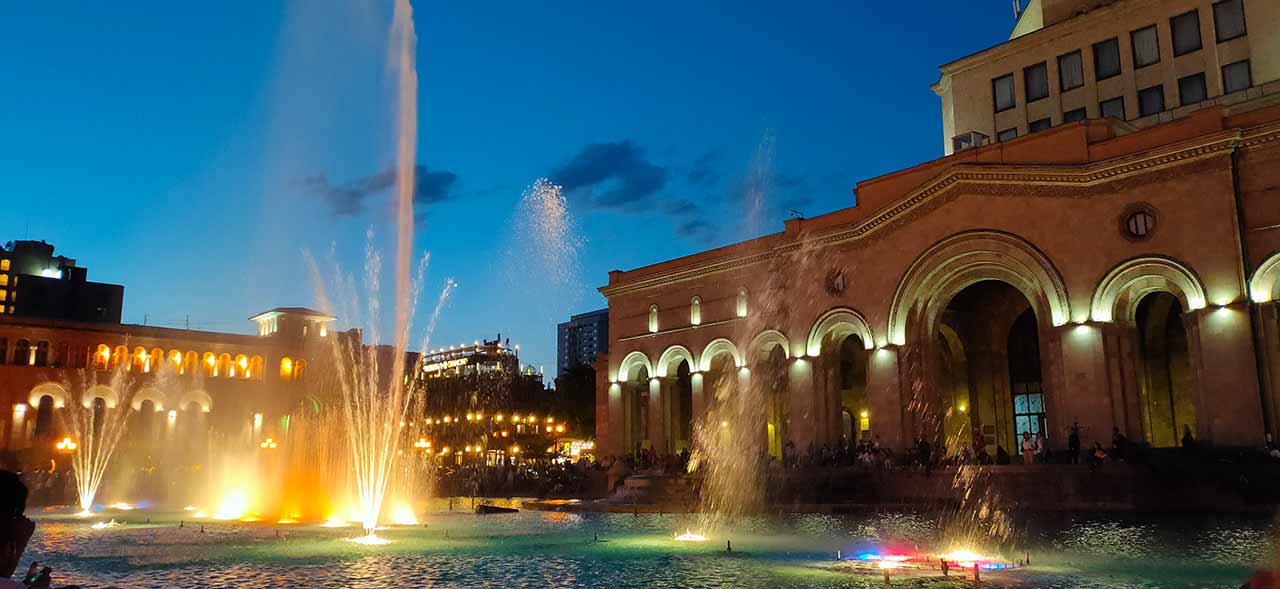 Republic Square
To explore Armenia, one can pre-book tours online or in Yerevan available at the Republic Square. Extremely proud of its legacy and history, Armenia has well preserved monuments and it is truly a delight to explore them.
Monuments
Echmiadzin (now called Vagharshapat) is known as a site for pilgrimage and culture because it hosts the Echmiadzin Cathedral, St Hripsime, St Gayane and Zvartnots.
Echmiadzin Cathedral is the first church in the world and called the Mother Church in Armenia. Built at over 65 ft height, the work began in 4th century and was built in several parts. Originally built in wood and eventually reconstructed in stone, there were additions in 17th and 18th centuries. The Cathedral is currently shut for access due to restoration work but even the door holds very intricate designs and artwork. In 2001, the relics of St Gregory were brought over to this Cathedral to celebrate 1700 years of Armenia's adoption of Christianity. The cathedral now holds religious ceremonies and prayers adjacent to the main church and also has a seminary college in its premises. A walk around gives a brilliant view of Mt Ararat.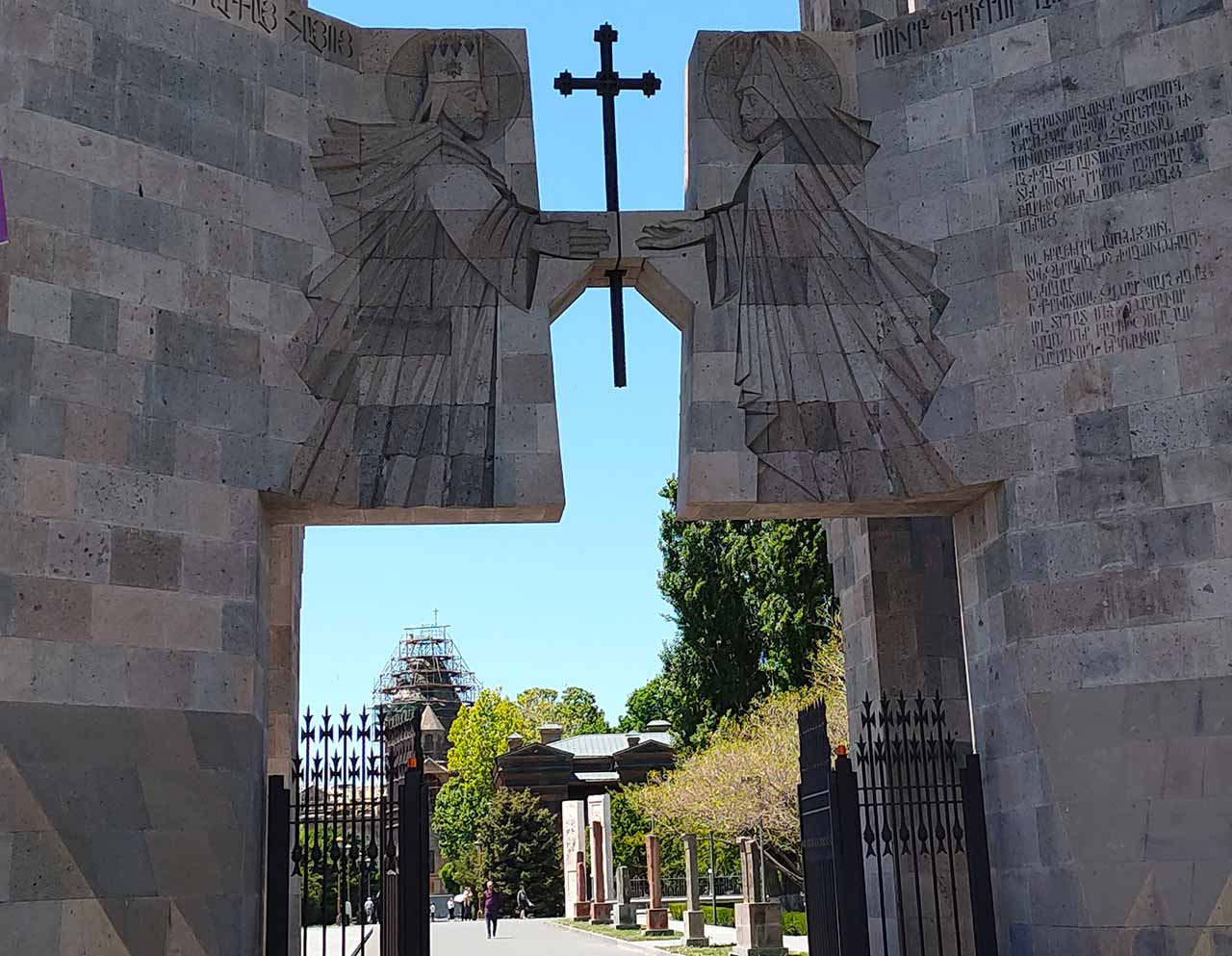 Echmiadzin Cathedral
It is believed that Gayane fled with Hripsime and several other women to Armenia to escape persecution and were martyred in Armenia. St. Hripsime is built in the memory of Hripsime who was stoned to death in 301. The church was constructed in 618 and holds her tomb with the depiction of her tragic death (depicted near her tomb stone inside the church). The architecture is majestic and the church holds regular prayers. The Church of St Gayane was built in 635 AD and displays Armenian stone architecture brilliantly. The entrance of the church depicts the nativity scene. The church was constructed at the site where Gayane was martyred in 301 and was later recognized as a saint in the Catholic Church.
Zvartnots Cathedral is located at the edge of Echmiadzin. Set against the backdrop of Mt. Ararat, the cathedral is supposed to have built on the site where St Gregory converted King Tiridates III to Christianity. Built in 7th century, the ruins were excavated in 1910. The exterior design with large columns and round structure give a very strong Roman Colosseum feel visually. There is a museum that details its history and significance as well as holds a model of the full structure.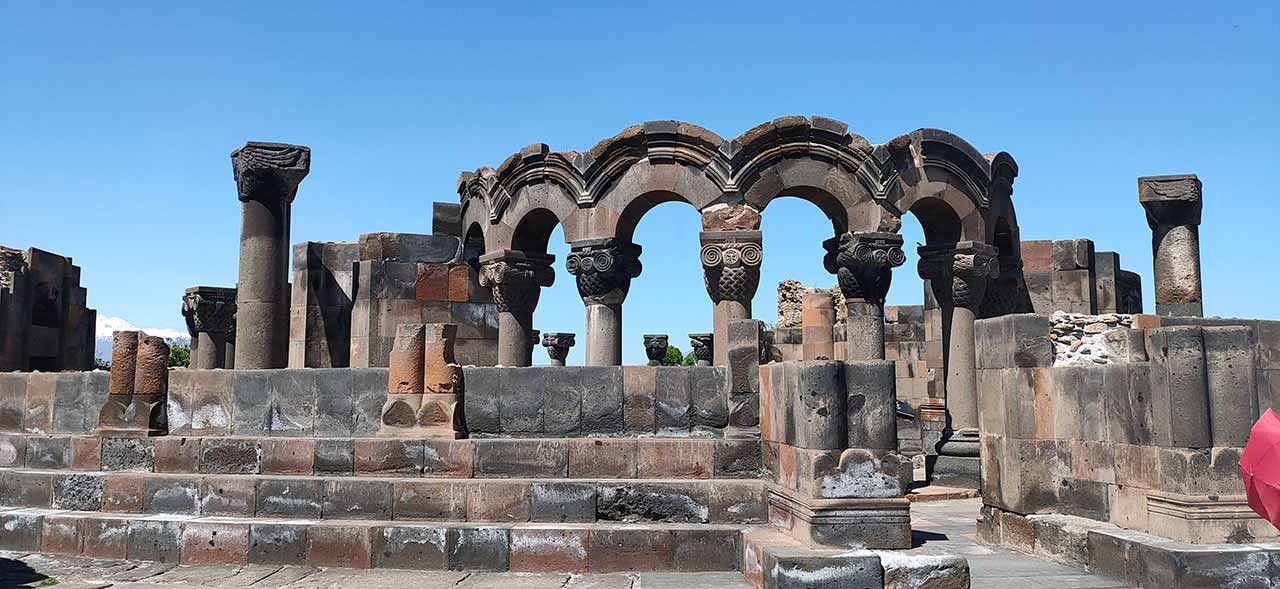 Zvartnots Cathedral
St Gregory the Illuminator Cathedral is the largest Armenian church in the world. Built in the honour of St Gregory who brought Christianity to Armenia, it is a majestic structure in the city. Located at Tigran Mets Avenue, it is a popular venue for weddings. Constructed in 2001, the cathedral holds the main church and 2 chapels. Constructed at a height of 177 feet, it holds relics of St Gregory brought by the Pope to Armenia in 2001, the 1700 anniversary of Armenia's adoption of Christianity.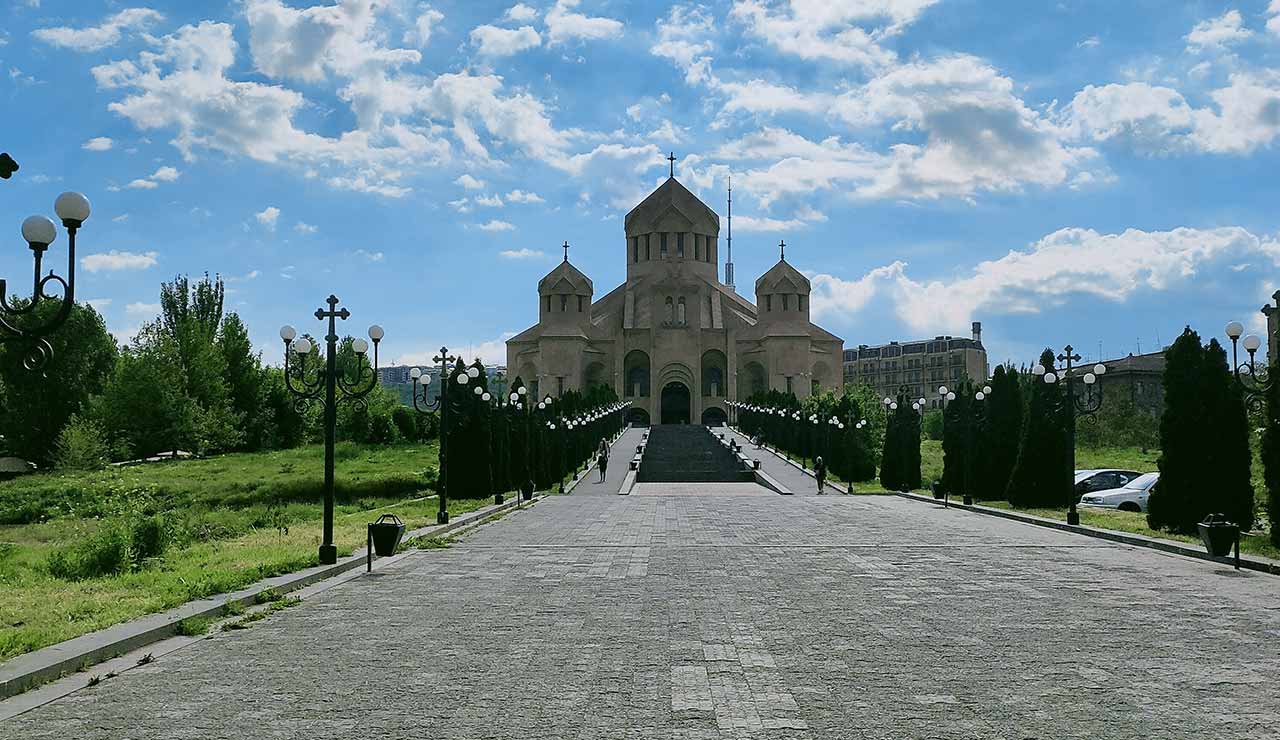 St Gregory Cathedral
Khor Virap Monastery is at the last village of Armenia and near the closed border with Turkey. Khor Virap means bottomless pit and is named after St Gregory who was imprisoned for 14 years in a chamber 200 ft below ground. The legend says Gregory was imprisoned by the King without food or water as punishment and was found alive even after 14 years (fed by an old widow who was believed to have put pieces of bread in the pit every day after a dream) and later cured the king. The king later converted to Christianity and Armenia adopted Christianity as a state religion in 301. The current structure was built in 1662 and today there is a metal ladder to access the pit which I climbed down into. The climb down is 200 ft deep and the pit is a small enclosure (14 ft wide). holds the altar, large picture of St Gregory and is well lit. The climb down and up is tricky and gives a good sense of how it was meant as a punishment. The monastery is on a hilltop and strategically placed statues facing Turkey including the statue of a soldier on a mountain and a large cross are both at Khor Virap, the last village of Armenia.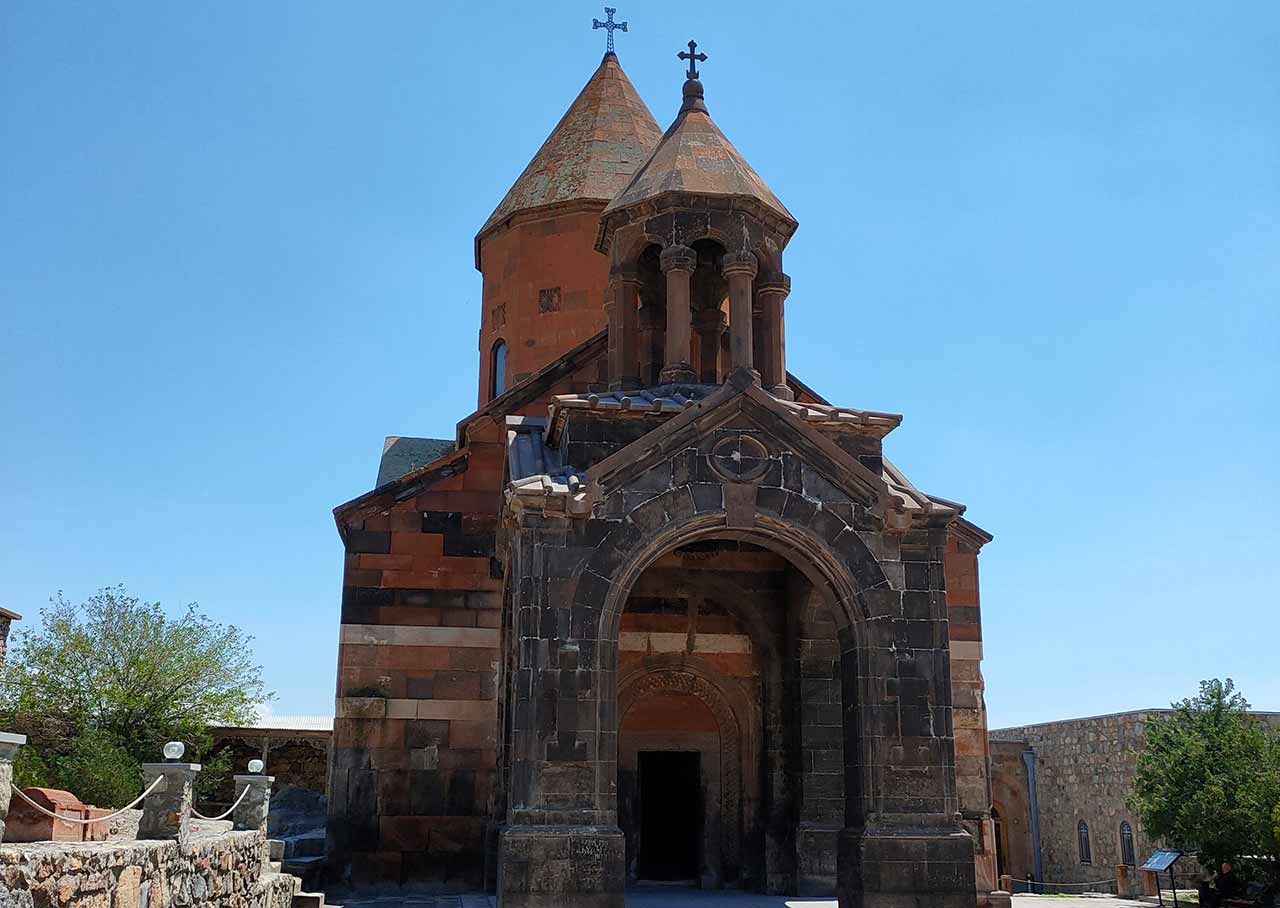 Khor Virap Monastery
Sevanavank is the monastery at Lake Sevan and is nestled atop a hilltop with a magnificent view that leaves you spellbound. While earlier it used to be an island, it is now a peninsula which holds the monastery made of black stone and with several interesting khachkars. View from the south gives a glimpse of the guesthouse for Armenian Writers. I had lunch with a view of the Lake and it was surreal to say the least. It is a very popular tourist place and the open skies with mountains and blue waters for company make it a delightful experience.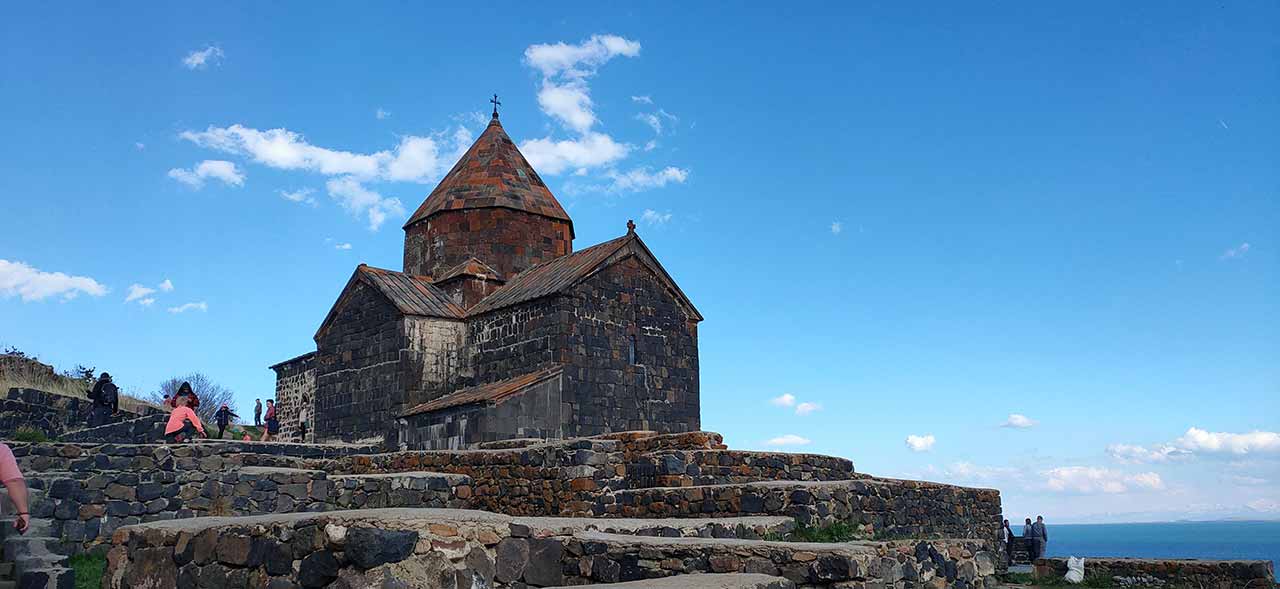 Sevanavank Monastery at Lake Sevan
One of the much promoted activities is the ropeway in Armenia. Located at Tsaghkadzor (which means valley of flowers), the ropeway gives a beautiful view of Armenia. Tsaghkadzor town was developed as a getaway during the Soviet era and even today holds ski resorts which are very popular in winters. The ropeway is slow and accompanied by light music and the ascent gives you an unforgettable view of the snow clad mountains. There are several snow related activities at the top while the descent is equally beautiful with soothing call of birds for company.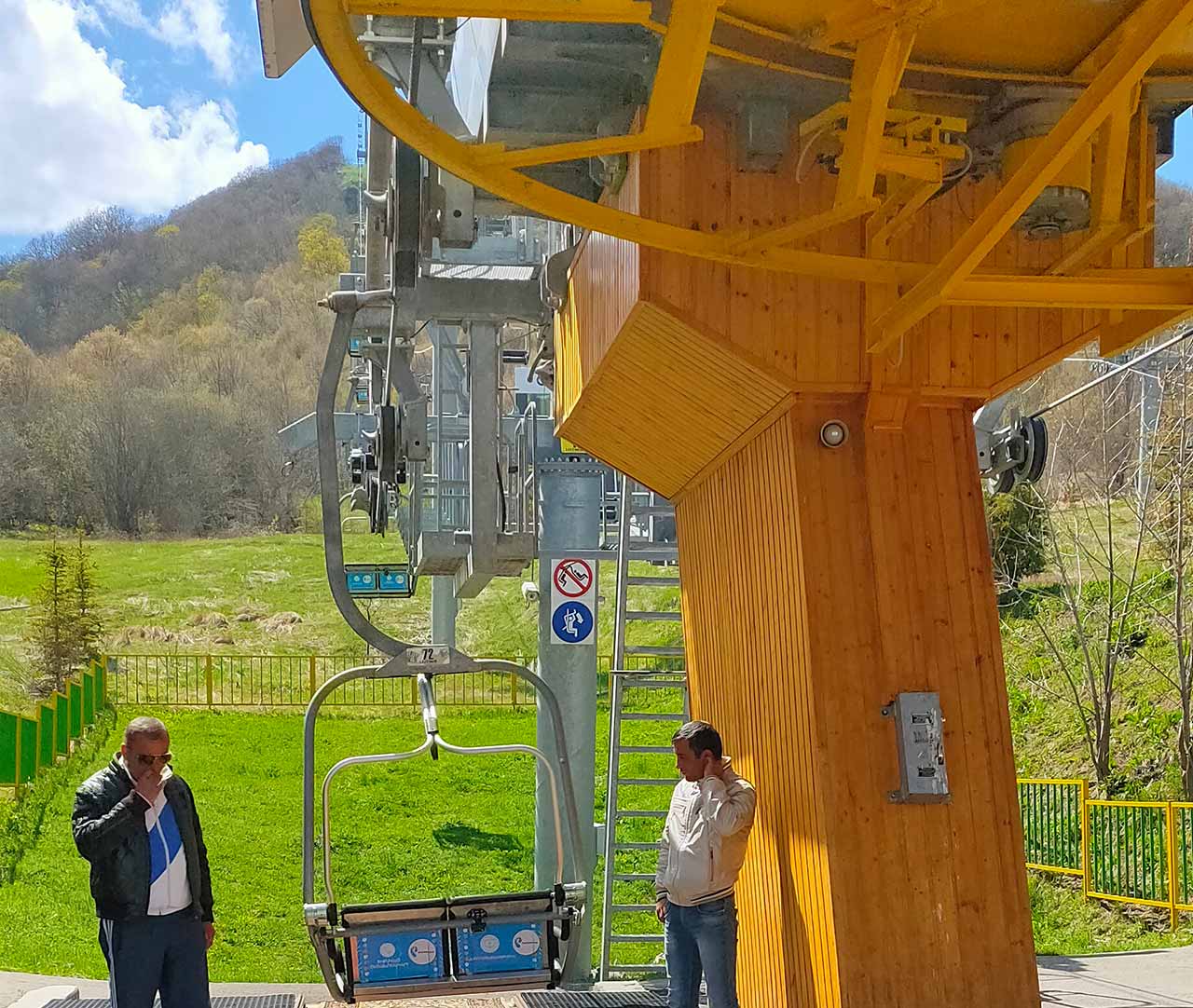 Ropeway at Tsaghkadzor
The town also has Kecharis Monastery which holds four churches, two chapels and a cemetery with khachkars. Made around the 12th century, it is striking in its architecture with serene surroundings. Kecharis was a major center for calligraphy earlier and several manuscripts were created here.
Garni and Geghard are two noteworthy monuments. Garni temple was a pagan temple dedicated to Sun God in 1st century. It was reconstructed in 1960s and an important reminder of Armenia's pre-Christian history. It is only pagan temple now in Armenia and is built on a podium with basalt. It has 6 columns and is built in Roman style. The Roman baths are found close to it and standing at Garni gives you a attractive view of the Gegham mountains.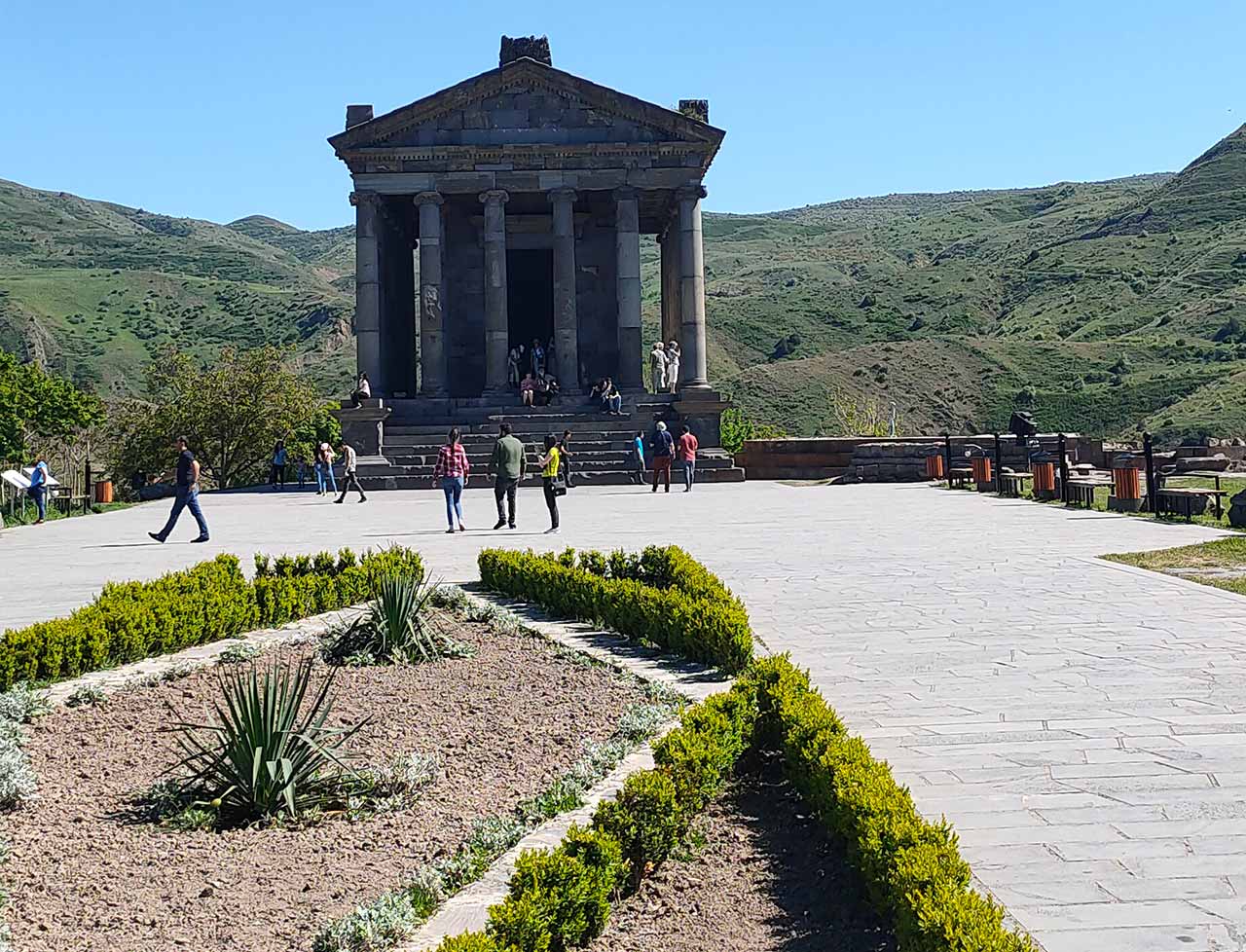 Garni Temple
Located nearby is Geghard Monastery and is a must visit because the entire monastery is carved out of the mountain. Built between 12-14th centuries, Geghard is named after the spear which wounded Jesus during crucifixion and hence Monastery of the Spear. The complex dug out of the cliff holds elaborate structures, engraved khachkars and also a fount of holy water from the mountains.. It also has a waterfall and a cave which holds stones that when lined upon each other, do not fall. It is a two storied structure and is a marvel to witness with multiple chapels, intricate crosses and magnificent view.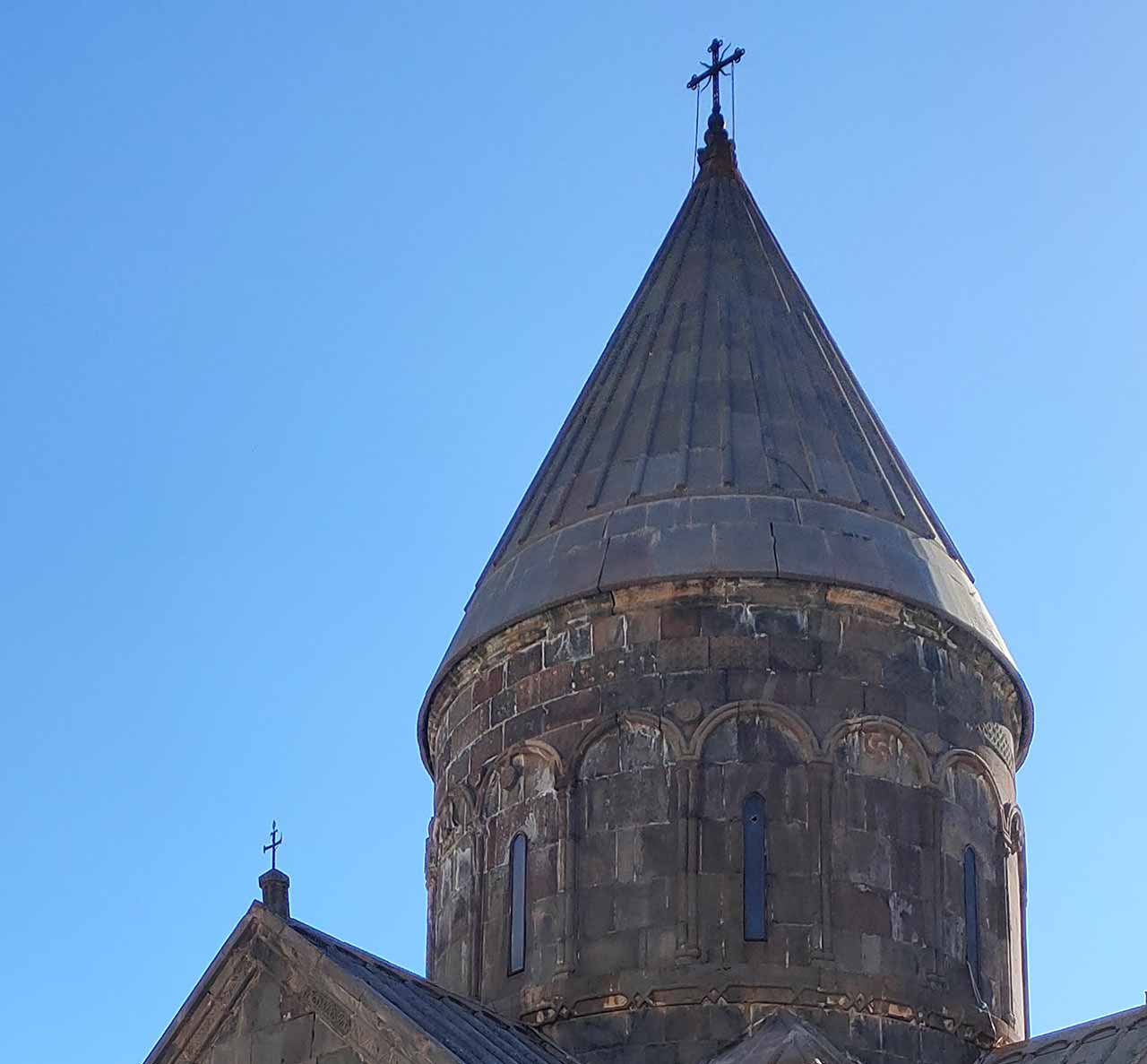 Geghard Monastery
While these monuments are spread across Armenia, Yerevan city itself holds several important landmarks.
History Museum of Armenia is an important landmark and is located at Republic Square. It holds important documents, moments and achievements of Armenia. It displays the national costume, the memories of the Genocide, the engraved ceramics and significant motifs of Armenia. In a detailed and step by step view, it presents the history of Armenia for tourists and locals alike. It also traces the independence of Armenia, the history of its flag and the constitution. The courtyard also holds several artefacts and I would say this is a must visit for anyone visiting Armenia. Located nearby are also the Royal Opera House and several government buildings that give it a regal feel.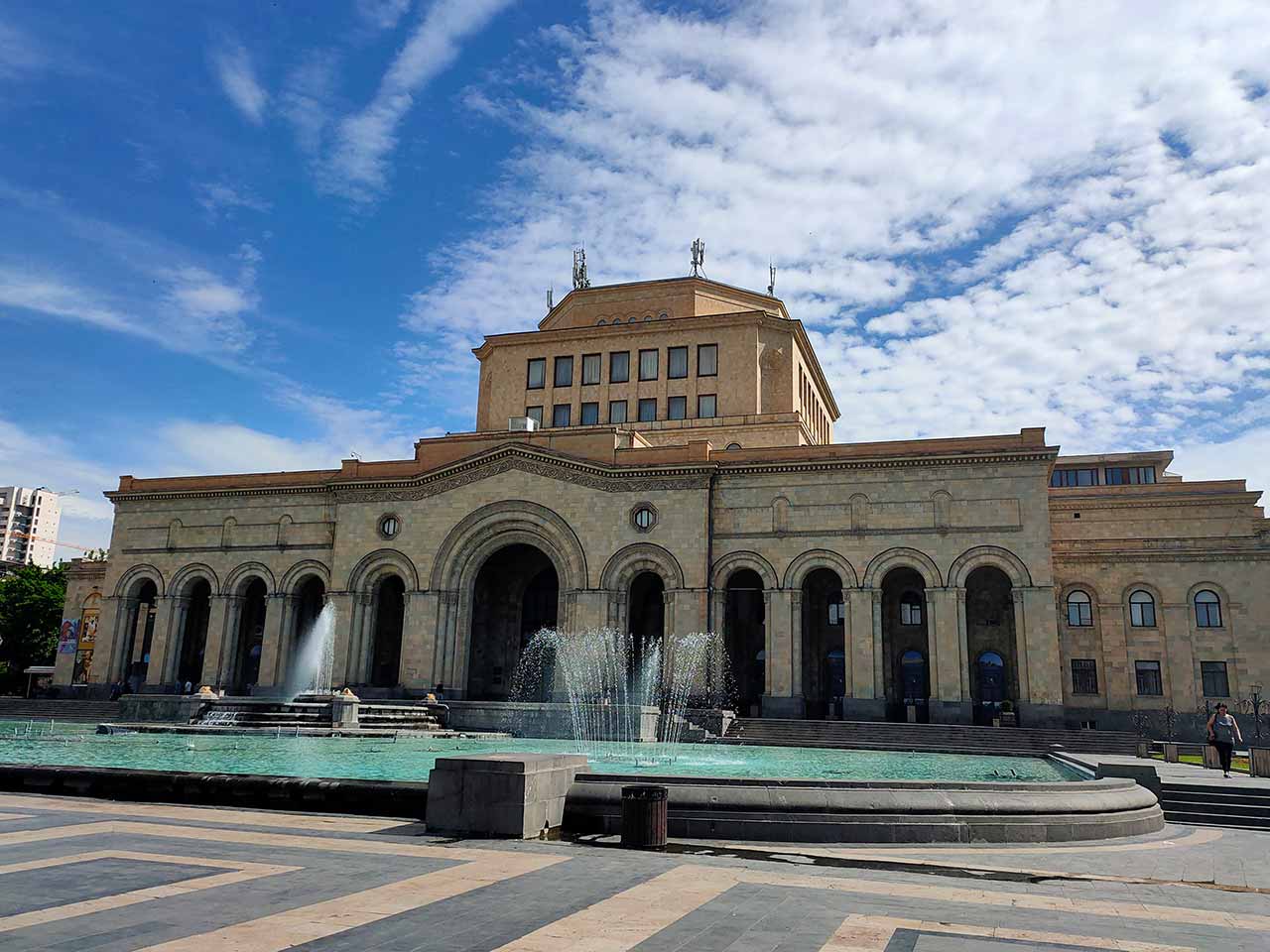 History Museum
Cascade is a long limestone stairway of 2,780 steps with majestic view of the city. The walk to the Cascade is filled with picturesque sculptures. With several works of art displayed by Cafesjian Museum of Art, Cascade has multiple levels with an ascending view of the city. At the top you can see Mt Ararat and a grand view of the city.
Another noteworthy monument is the Genocide Memorial. The Genocide Remembrance Day is observed in April 24 and the Memorial commemorating the 1915 genocide was built in 1967. The memorial is a 44 meter tall structure with 12 slabs and an undying flame at the center. The walk towards the structure holds names of towns where the genocide occurred to recognize them. Armenia has a wonderful tradition of making state visitors plant trees at the memorial and there are several trees planted by dignitaries across the world with plaques commemorating their visit. The memorial plays soft music and holds a museum with details and photographs of the genocide. .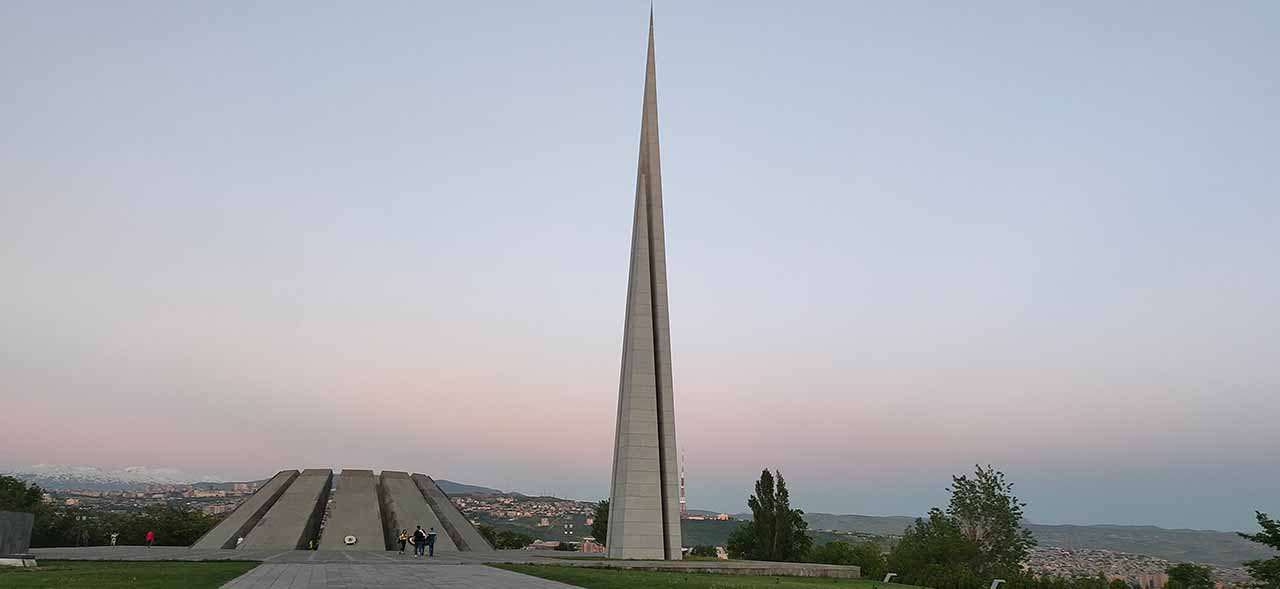 Genocide Memorial
Armenia is called the fatherland while Mother Armenia watches over it. Mother Armenia statue is 22 metres high and located at a hillstop. She symbolises strength and recognises the contribution of women in Armenia. It also has a museum depicting war and defence exploits as well as army tankers and artefacts to commemorate war martyrs. Looking at the outstanding statue armed with a sword overlooking the city gives a sense of power and strength.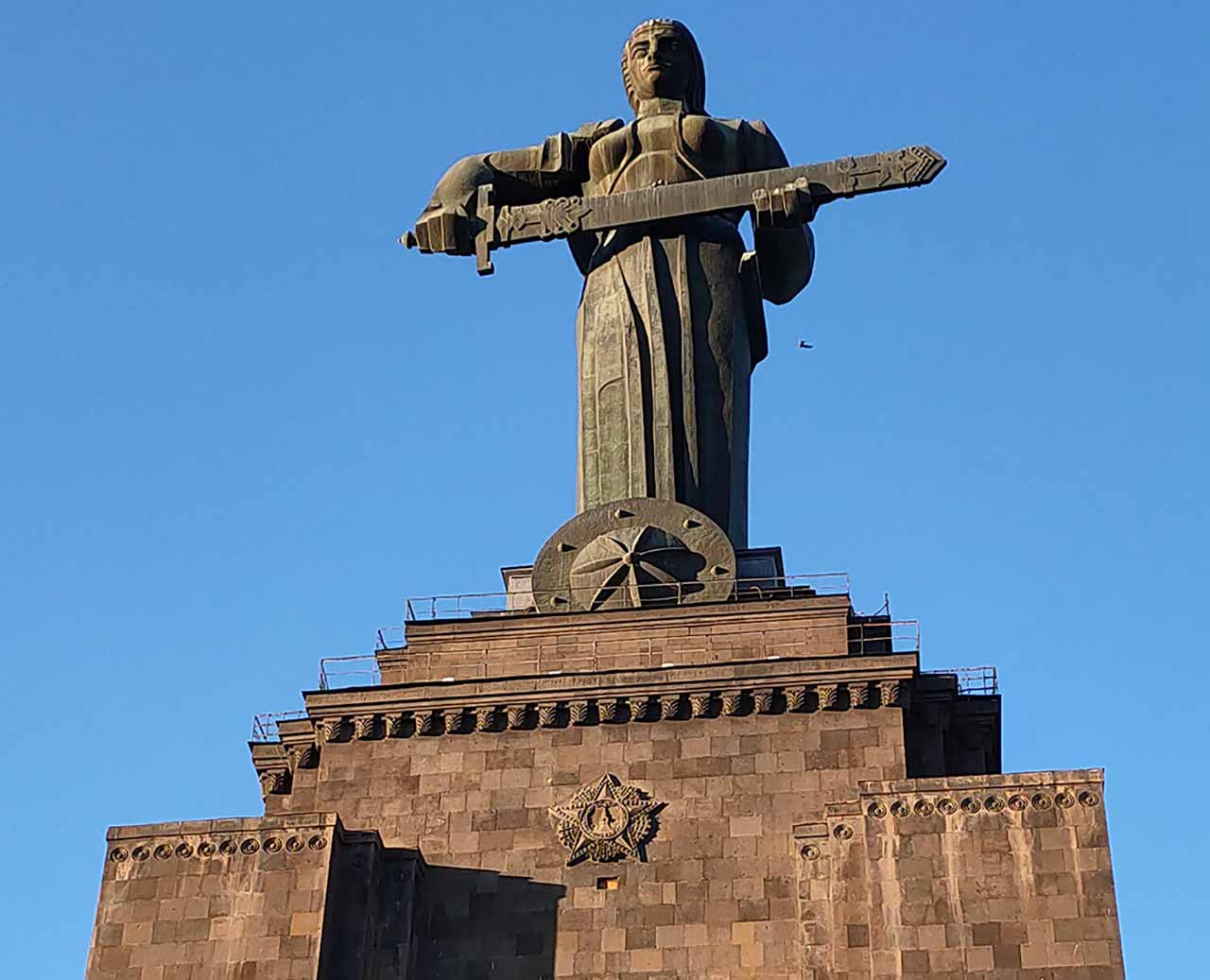 Mother Armenia statue
I chanced upon the Grand Mosque (Blue) of Armenia during one of my walks in the city. Nestled in the humdrum of the city at Mashtots Avenue, it was built in 1765 and restored in 1999 with Iran government's assistance. It is the only active Shia mosque in Armenia. At the outset, the design is very Persian and the main building has beautiful blue tiles (which give it its name I guess) with a minaret next to the main building. The mosque premises has the main prayer hall, a library and large courtyard with a fountain, beautiful flowers and serene ethos.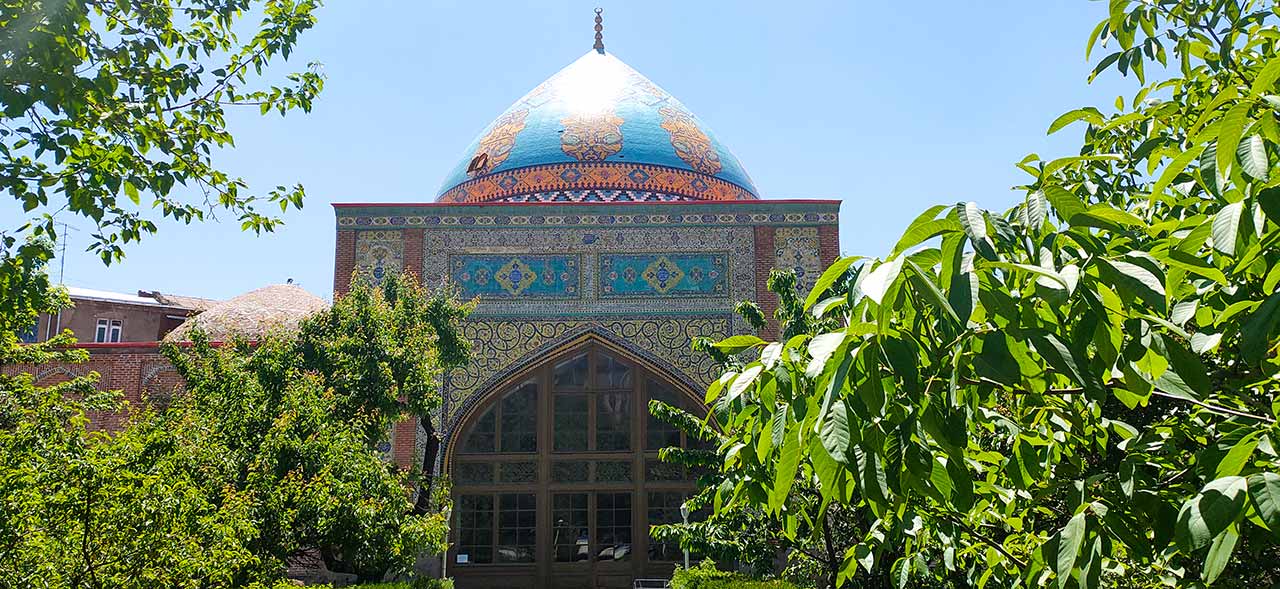 Grand Mosque (Blue)
Art
Armenia is a relatively young country (it became independent in 1990) and yet extremely proud of its legacy and history. Part of their pride is their celebration of art and artists and you see commemoration of artists, playwrights, historians, authors, poets, etc. like Shiraz, Charents, Aghayan on city roads. Statues also dot the city predominantly at road squares. You can see handpainted souvenirs, wooden carved figurines, paintings, embroidery and natural flower jewellery made locally. Pomegranate is an important motif in Armenian art and you find it in paintings, jewellery, utensils, etc.
Khachkar is the most significant Armenian symbol. Khachkar literally means cross carved on stone. Representing its Christian identity, khachkars (cross-stones) are recognised as a truly Armenian symbol. Each khachkar is distinctive in its design and carved intricately on stone. The designs include winged crosses, motifs like pomegranate, geometrical designs, animals, tree of life, etc. It is documented that when Turks took over Armenia, they looked to destroy these cross stones as they were a reminder of everything Armenian. While each monument you visit has khachkars, Yerevan has a special remembrance park dedicated to it commemorating 25 years of the Genocide in 2015. There are over 15,000 khachkars found across Armenia and while most of these are made on Armenian red stone (locally called touf), they are also now available in wood, on doors, as souvenirs. etc. The distinctive patterns and design of the cross makes it recognizable as Armenian.
Specialities
Access to drinking water is what sets Armenia apart as a tourist destination. There are water faucets across the city which ensures you keep yourself hydrated and reduce expense on buying water. This is especially helpful in summers and for those like me who love exploring the city on foot.
Coffee is the dominant beverage in Armenia and you see coffee stalls across the Yerevan. While the older generation drinks and prefers Turkish black coffee, younger people drink Americano and Cappuccino, possibly with tourist influence. Local food is delicious with lavash (bread) and dolmas highly recommended.
Summing up
If you are a history freak, enchanted by the historic monuments, then this is the place for you to visit.