About Andaman
Visit to Andaman islands is a liftime experience. We visited Andaman islands and the tour was customised by SOTC through Andaman Escapades Pvt.Ltd., Port Blair. It was a 5 nights 6 days tour.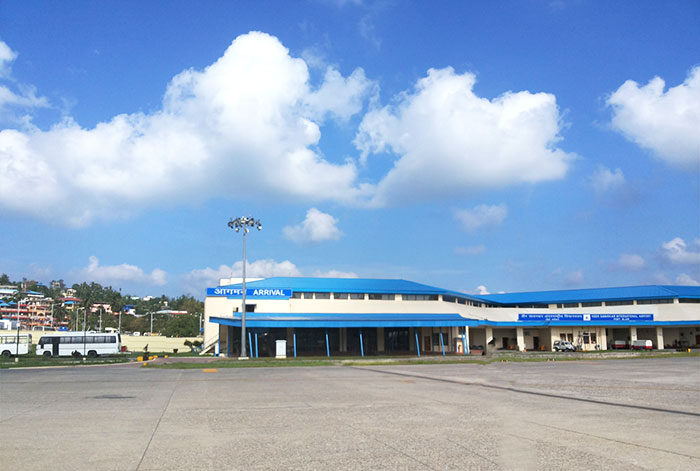 Port Blair Airport,Andaman
Day 1
Travel - by air
Boarded flight at Pune at 6.55 a.m. and reached Chennai at 7.35 a.m. After having breakfast at Chennai airport, boarded Spicejet flight from Chennai to Port Blair at 10.20 a.m. reaching Port Blair at 12.35 p.m. We were received at Port Blair Airport by representative of Andaman Escapades Pvt.Ltd. and checked into Hotel Sea Shell at Port Blair.
Travel - by sea
There is an option to travel by Ship from Chennai or from Kolkata to Port Blair. There are regular ship services from Chennai and Kolkata four times a month covering a journey of 3 nights and 2 days by sea. Tickets can be booked online.
Staying arrangements
On day one we were allotted standard room at Sea Shell. We were allotted a room on the ground floor with a big white wall on the side and no outside view from any side. It was like staying in a hotel in any metro city and not an island. Our expectation of a sea side view was belied.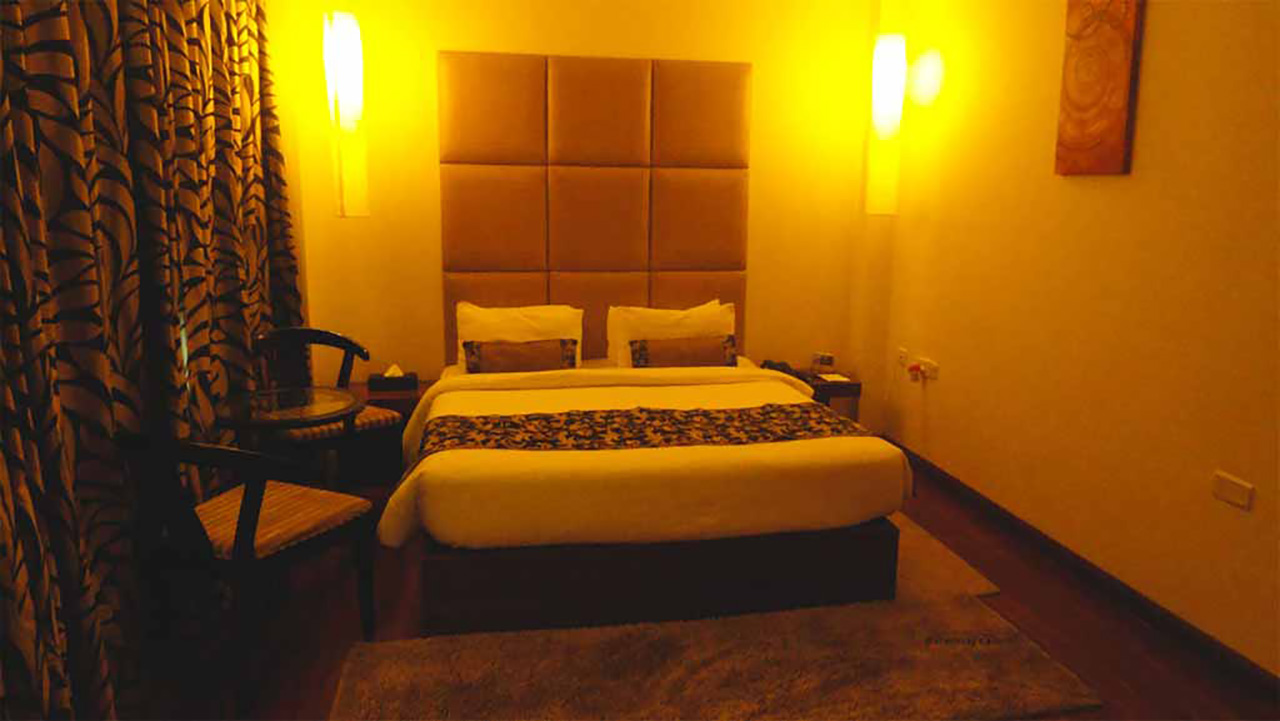 Standard room at Sea Shell, Port Blair, Andaman
After checking into the hotel room, we decided to have lunch outside. We explored the area and entered New Light House Restaurant near the Port Blair jetty in Andaman Islands. It is a restaurant with view of the garden and the sea from the upper level. The fish fry was excellent and the food, in general, was good. Hence, we decided to have dinner at the same place.
Right next to Hotel Sea Shell (which is slightly on the higher plane) is ITC Hotel Fortune Resort Bay Island which is right on the sea side (at a lower level) with a tariff ranging from 6990 (for double occupancy)to 8990 (american plan) per day when we visited. There are other similar and also smaller hotels at Port Blair.
Sight Seeing
In the evening we visited Cellular Jail in Port Blair at 3.00 p.m. Cellular Jail is now a national monument which was the detention place for hundreds of political prisoners (like Veer Savarkar and many other freedom fighters)
The Cellular Jail was designed and constructed by the British in 1906 with 693 prison cells. Each cell of 13.1/2"length, 7.1/2" width and 10" height. The prisoners were provided wooden beds. The jail consists of 7 wings spreading from the center. Only 3 wings have survived the second world war bombings by Japan. The Cellular Jail closes for tourists at 5.00 p.m. and the light and sound show starts inside the jail premises at 6.00 p.m. which runs for an hour explaining the historical significance of this monument and the sacrifices of the freedom fighters who were jailed in the premises.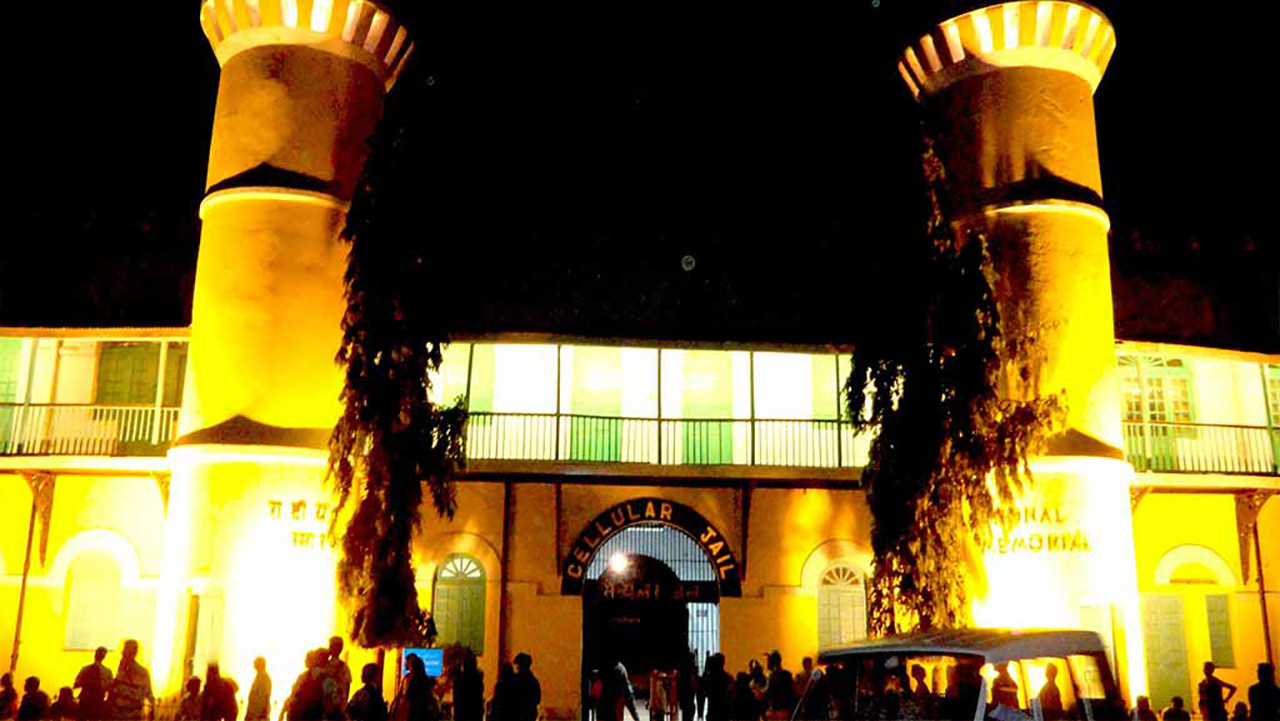 Cellular Jail, Port Blair, Andaman Islands
After the light and sound show, we had our dinner at New Light House and retired for the day.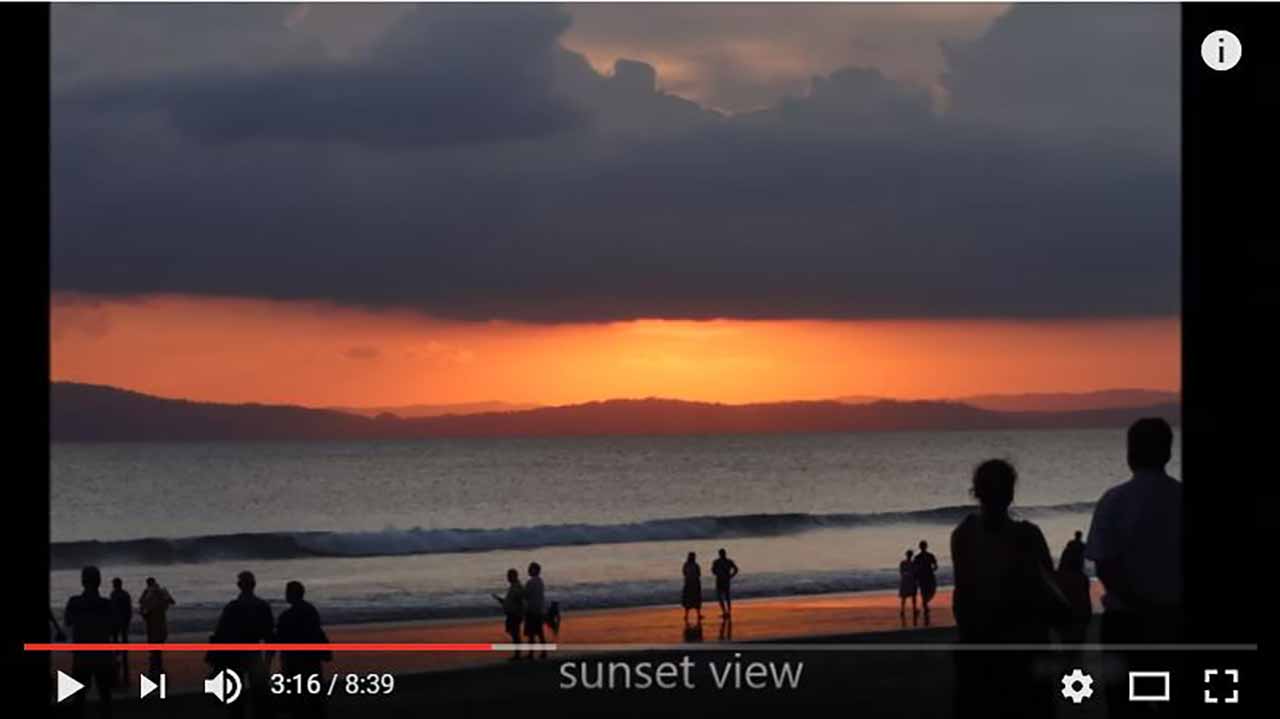 Watch Video of Andaman Tour
Day 2
After early breakfast at 7.30 a.m., we moved out from the Hotel and boarded the cruise 'Makruzz' for Havelock Island. It is a 1 hour 45 minutes cruise to Havelock Island.
Within the first 30 minutes of the starting of the cruise, there was puking all around as the cruise boat was rocking on account of huge waves. It took some time for every one to settle down. The cruise fare is Rs.950/- per head at the time of our visit. We reached Havelock island at 10.00 a.m. and the vehicle picked us up and took us to the Hotel Sea Shell at Havelock Island. It is one single road from the jetty to Sitapur beach. The Hotel Sea Shell is about 5 minutes from the jetty.
Macruzz Cruise to Havelock Island
The Hotel Sea Shell has different types of rooms viz., Chalets (cottage type), villas and lagoon cost ranging from Rs.5999/- to Rs.6999/- per day on the day of our visit (i.e., Dec.2013). The hotel-cum-resort is housed among cocoanut trees all around and beach on one side. You can either relax inside your room or near the beach where relaxing chairs are provided by the resort.
It was almost one hour wait for checking into the room as the check out time for previous guests is 11.00 a.m. After we checked into the room (Chalet type), we relaxed for some time and then had our lunch in the resort restaurant. The rooms are well kept and the bathrooms are clean and tidy. The food was tasty and the staff was quite helpful. But be prepared for provision of hot water in buckets as we were told that the water heaters are not working consequent to the storm in November. We hired a two wheeler with the assistance of the front desk of the resort and moved around the place. On the way to beach No.5 Vijay Nagar Beach, we found Silver Sand Resort with tariff ranging from 10,000 for villa to 12,000 for cottage and 15,000/- for lagoon per day during our visit.
During the drive, we found a restaurant by name 'The Lee Meridian Restaurant & German Bakery' which is next to 'Anju Coco Restaurant'. We made the mistake of eating at The Lee Meredian. Believe me, as soon as the food (fish fry, fish curry and rice) was served I found a fly in the rice. So, the lunch went for a toss. We should have tried the Anju Coco restaurant or the Hotel Sea Shell's restaurant.
At 4.00 p.m. we visited Radhanagar beach, rated as one of the best beaches in Asia and it truly is. Paved by white sand and crystal clear water, the Radhanagar beach is surrounded by lush green forest. The sun set in December is between 4.30 to 4.45 p.m. It was a wonderful experience to be in the sea on this beach. The place is quite safe with people leaving their bags and belongings on the beach and entering the sea. Watching sunset at Radhanagar beach is the last activity for the day. At the entrance to the beach, there was a small road side vendor who was selling mixed fruit mixture like Amra, Papaya, cucumber, banana etc. with a topping of masala and salt. The mixture was so tasty that we had three servings.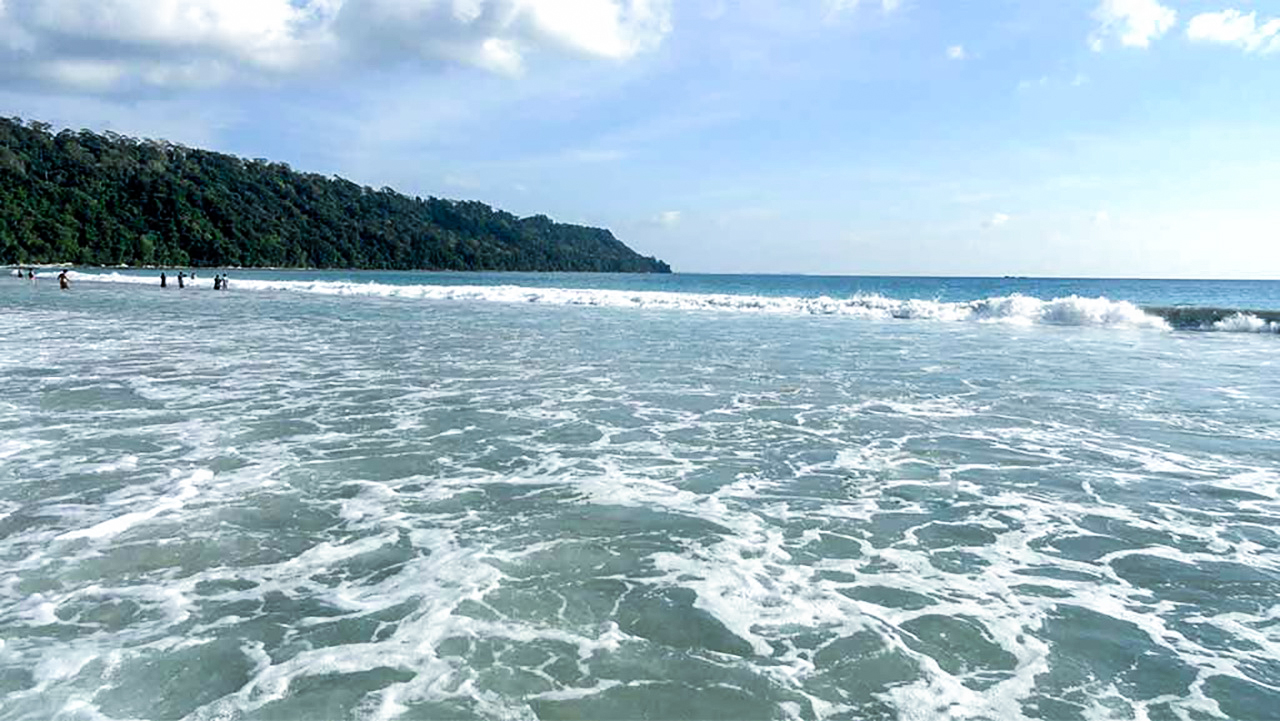 Radhanagar Beach at Havelock Island
We moved to the hotel at 5.00 p.m. and relaxed on the beach side till dinner. The hotel provides candle light dinner at the beach on extra payment. Many of the guests were young couple on honeymoon. We had dinner and retired for the day.
Day 3
After breakfast, we checked out of the hotel at 9.00 a.m. to catch the Coastal Cruise ferry to Neil Island at 9.30 a.m. It takes about 45 minutes to reach Neil Island. The ferry ticket was Rs.400/- per person on the day we travelled. We reached Neil Island at 10.15 a.m. and checked into Hotel Sea Shell . The resort is just a few minutes away from the jetty.
There are 2 other resorts slightly further away viz., Tango Beach Resort (wherein a lot of foreigners were found) and Pearl Park Beach Resort at Laxmanpur beach.
Hotel Sea Shell, Neil Island has two types of accommodation viz., luxury tents and cottages. The tariff for tents was Rs.5999/- and cottages Rs.6499/- per day at the time of our visit. The tents, although look like sheds from outside, are very well maintained from the inside. The speciality of these tents I found was the shower. It was on Europen style. There is a hammock provided at the entrance to the tent, where you can relax. The tents are covered by thick canvas type material and you can hear anyone speaking from outside.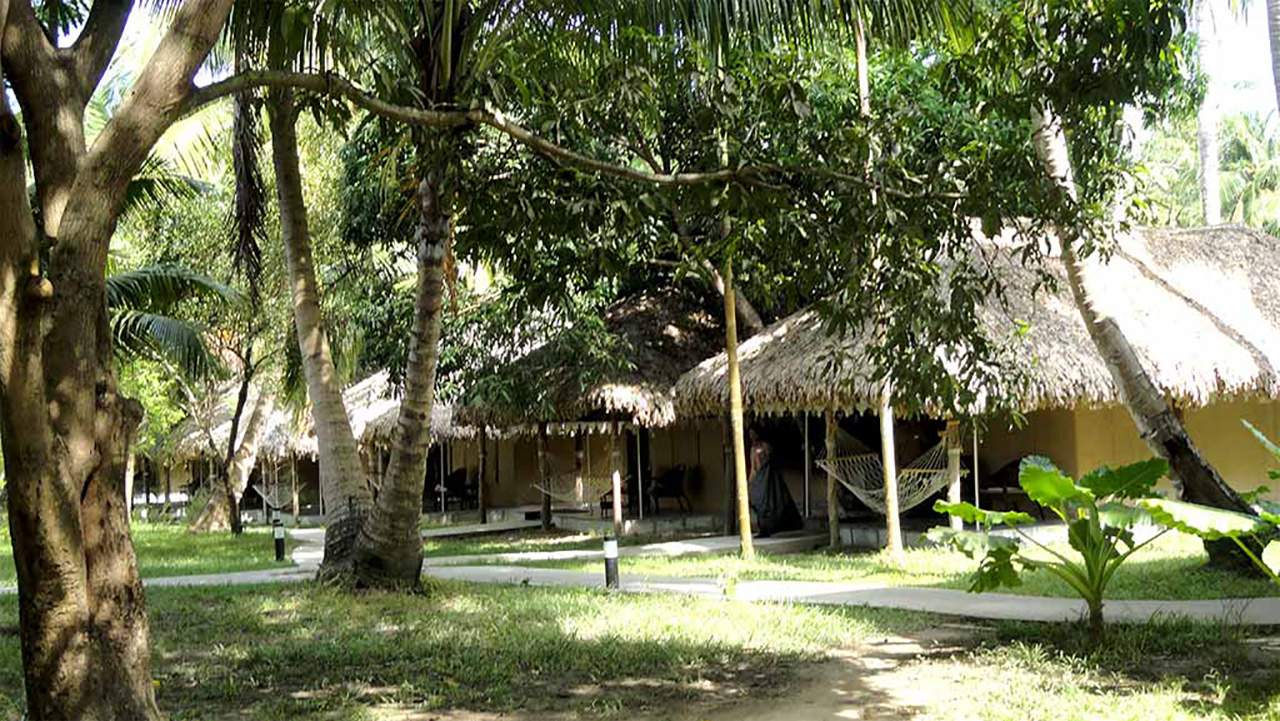 Sea Shell Resort at Neil Island
Shortly after checking into the room, we hired a two wheeler and moved around the place. There is nothing much to see except the sun set at Laxmanpur beach. Even the Laxmanpur beach is rocky.
On the other side is the Sitapur Beach, which is circular in nature and much better and cleaner. This is ideal for watching sun rise.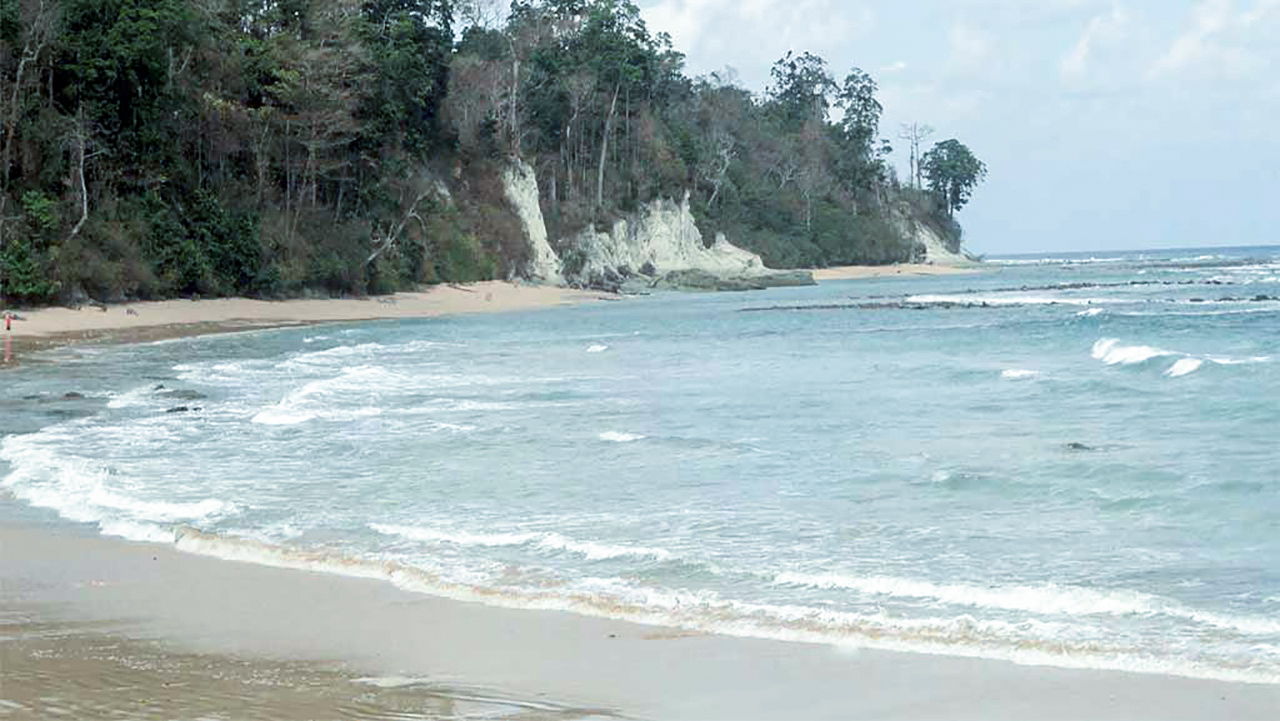 Sitapur Beach
We had our lunch at Hotel Sea Shell restaurant which was quite tasty (there are not many options for eating outside) and relaxed for 2-3 hours. At 4.00 p.m. we visited Laxmanpur beach to watch the sunset and it was a good experience.
After having early dinner at the Hotel Sea Shell restaurant, we retired for the day.
Day 4
As our room was booked for one day, we had to vacate the room by 11.00 a.m. but the ferry to take us to Port Blair was at 4.45 p.m. After breakfast, we moved our baggage and placed it on the front porch of the resort. We visited Bharatpur beach which is comparatively better but is filled with broken shells all around. Walking barefoot into the water could be a painful experience. Bharatpur beach is well known for snorkelling and coral viewing. We hired a glass bottomed boat for seeing corals and snorkeling. It was a wonderful experience to see corals through the magnifying glass fitted into the boat and also do snorkeling in deep waters.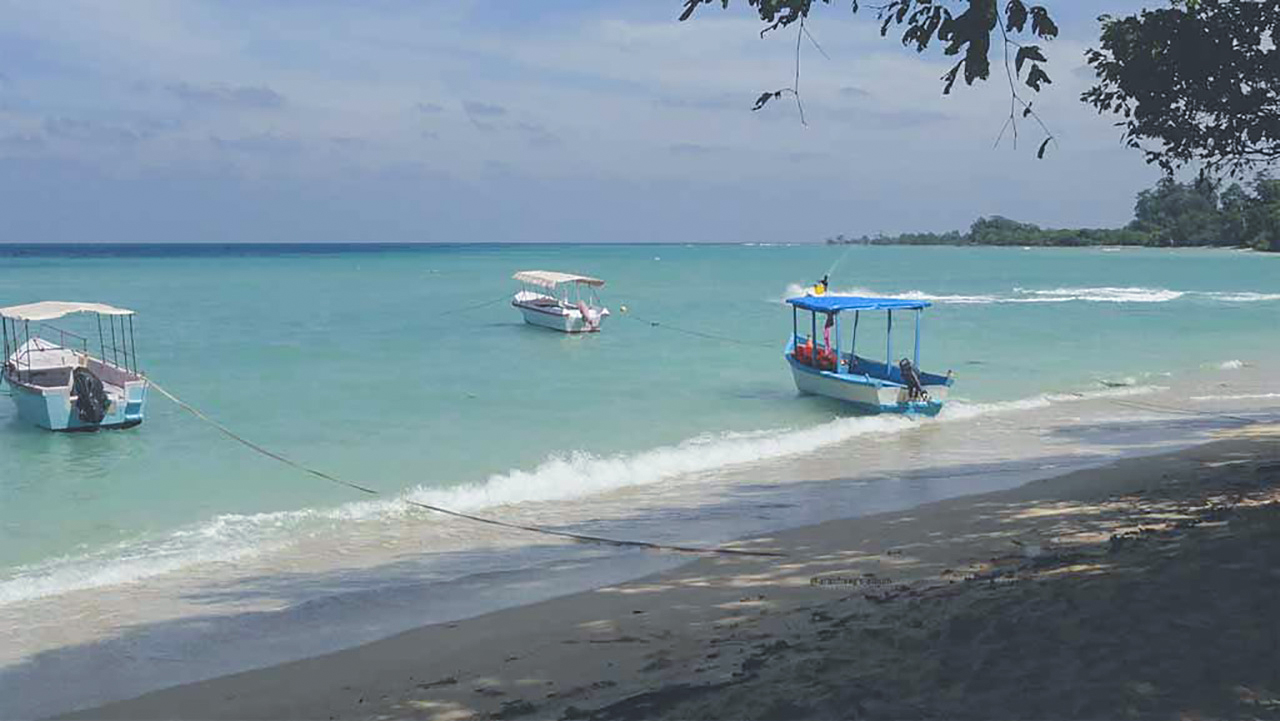 Bharatpur Beach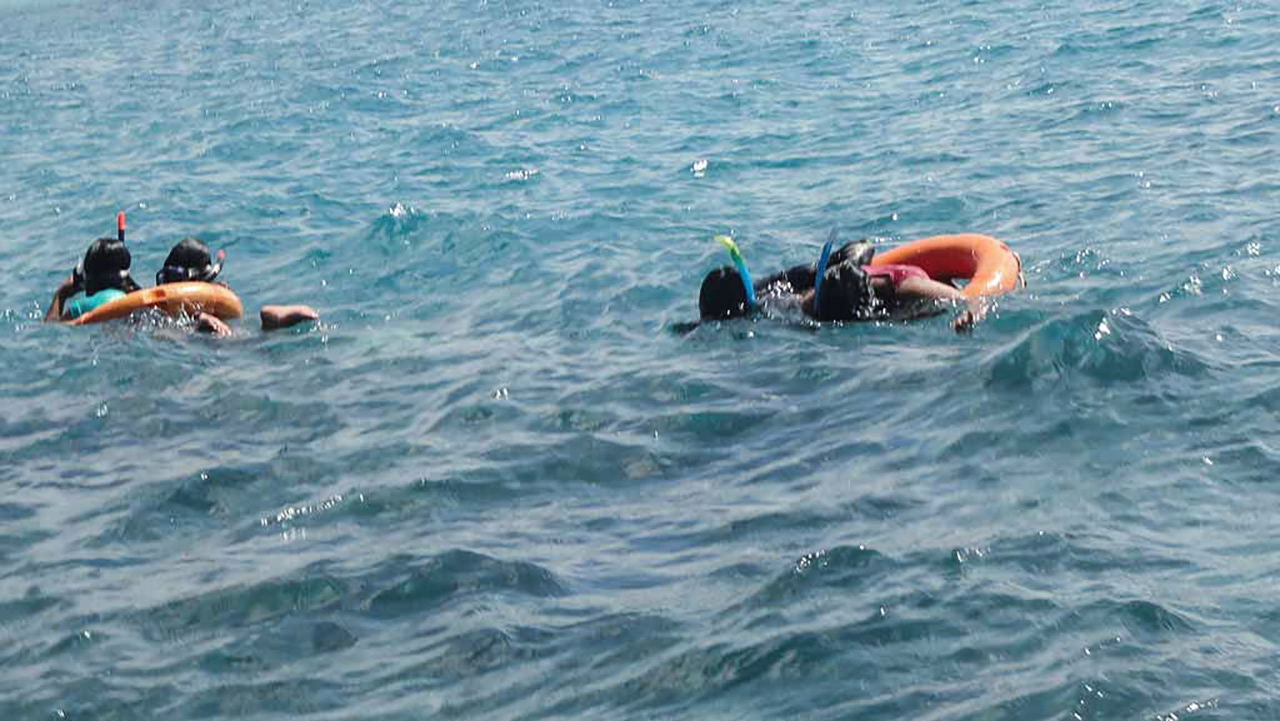 Snorkelling at Bharatpur beach
We returned to Hotel Sea Shell at 2.00 p.m., had our lunch and rested till 4.00 p.m. to take the Coastal Cruise ferry to Port Blair at 4.45 p.m. and reached Port Blair at 6.00 p.m.
On reaching Port Blair we again checked into Hotel Sea Shell at Port Blair occupying a deluxe room.
There was nothing Deluxe about the room except that it had a small balcony with slight sea view as it is located on the second floor. Sun sets at Andamans by 4.45 p.m. we had an early dinner at the resort restaurant and retired for the day.
Day 5
This was a hectic day visiting 3 different islands between 9.00 a.m. and 5.00 p.m. We boarded the ferry M.V. King Cruise at Port Blair Jetty at 10.00 a.m. and reached Ross Island at 10.30 a.m. The guide on the vessel provided us 45 minutes time to visit the island. Ross Island has following places of interest used by the British and now in ruins : Jetty, Helipad, Bakery, Swimming pool, water distilling plant, subordinates club, Presbyterian Church, Commissoner's bungalow, troops barrack, lone sailor, ferar beach, cemetery, guest rooms, cafeteria, Smritika Museum (maintained by the Navy),Japanese bunker and tourist shed.
Owing to limited time available at Ross Island, we could only see Smritika Museum, the ruins of Bakery, swimming pool, water distilling plant, officers' quarters, power house and some other dilapidated buildings with roots of trees spread over them.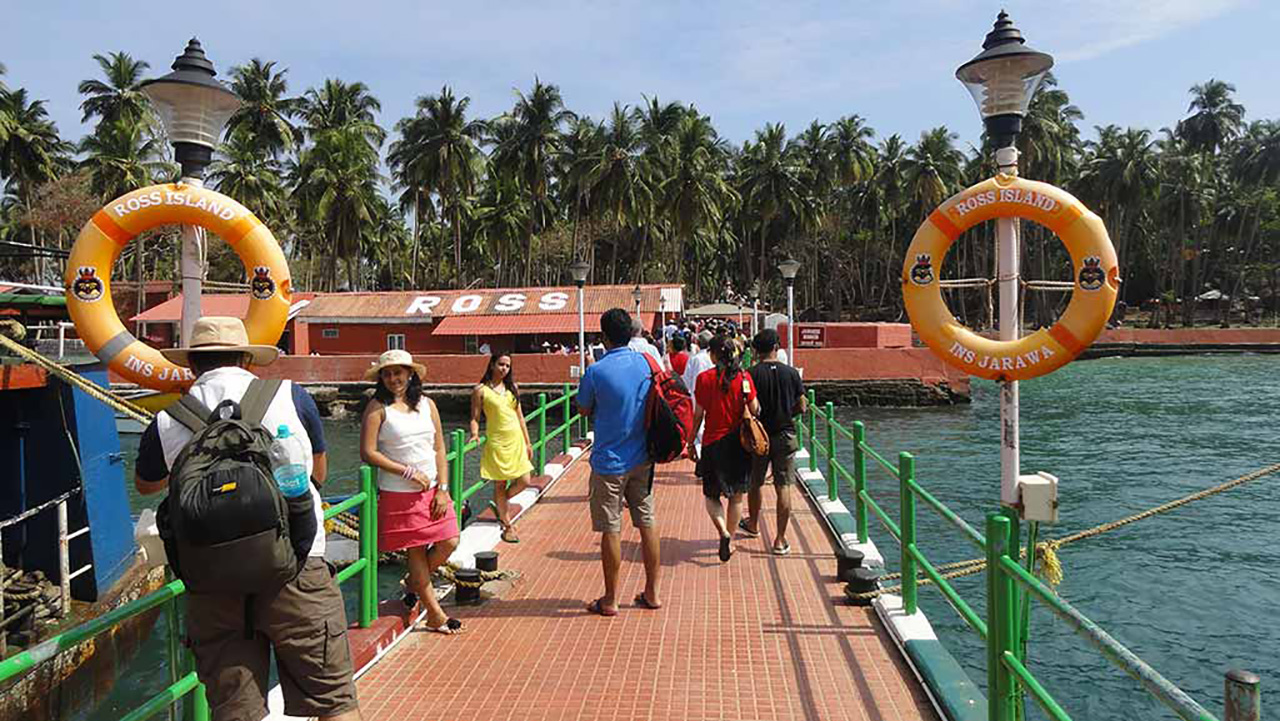 Ross Island
We left Ross Island at 11.30 a.m. and travelled to Viper Island. It is an hour's journey. En route we saw naval ships with a Naval Ship Repairing Yard in the sea.We also saw Coast guard vessels on the way. We reached Viper Island at 12.30 p.m. On the way to Viper Island, we were provided with packed lunch (fried rice) by the travel attendant.
At the Viper Island, there are only 2 structures, one is the Guard's quarters in ruins and after climbing 60 odd steps, on top of the hill is the structure where prisoners were hanged.This structure is distinctly remembered for hanging of freedom fighter Sher Ali who stabbed and killed a British high ranking official.
After spending 15 minutes at Viper Island, we moved further to North Bay Island, which was a journey of another hour. We reached North Bay Island at 1.45 p.m. We were told that larger vessels are not allowed to berth near the shore of North Bay Island as there are corals under the water. Hence, we were disembarked from the cruise boat into smaller boats.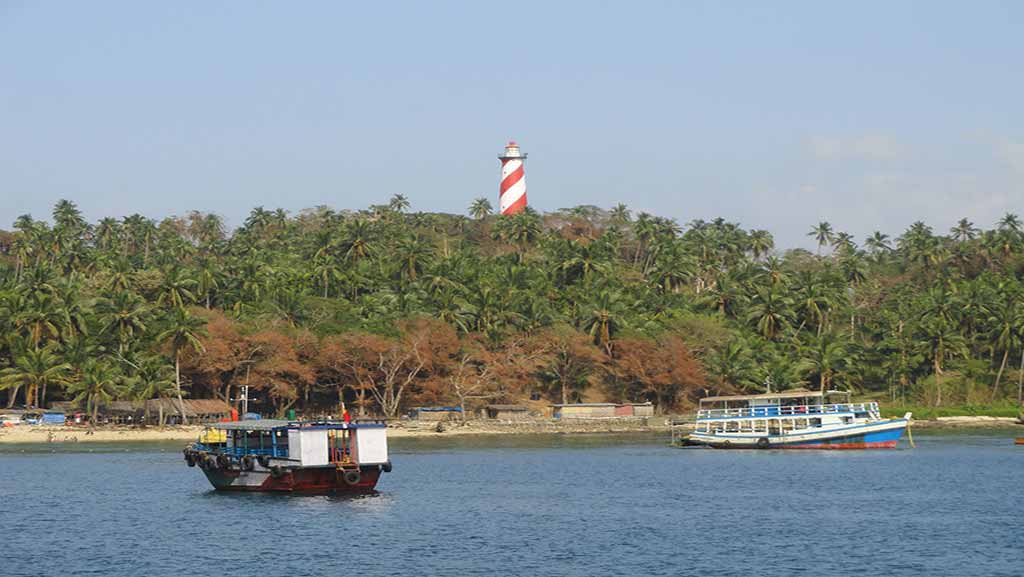 North Bay Island
Different boats went in different directions depending upon the type of activity selected by the traveller viz., those who wanted to do snorkeling or scuba diving were placed on some boats and those who desire to watch corals on glass bottom boats were placed in those boats and we planned to do sea walking and were picked up by speed boat and taken to a stationary vessel where equipment for sea walk was installed. It was an awesome experience to do sea walking.
A heavy helmet is placed on your head before you enter water and the helmet ensures that water does not enter into it. Oxygen is provided to the helmet through tubes from the deck of the vessel. You go 35-40 feet below water and walk on the sand. Body under water becomes weightless. Hence, balancing the body and holding is steady is a task by itself. We were told to hold hands and walk slowly for about 20 minutes under water. Watching colourful live corals, touching them and even carrying one of them was a wonderful experience. The other experience was feeding the fish. The variety of fish you see at sea bottom is difficult to describe. Different varieties of fish, small, medium and large ones hover around you, and when you feed them with feed provided by the attending guide, is a ticklish experience.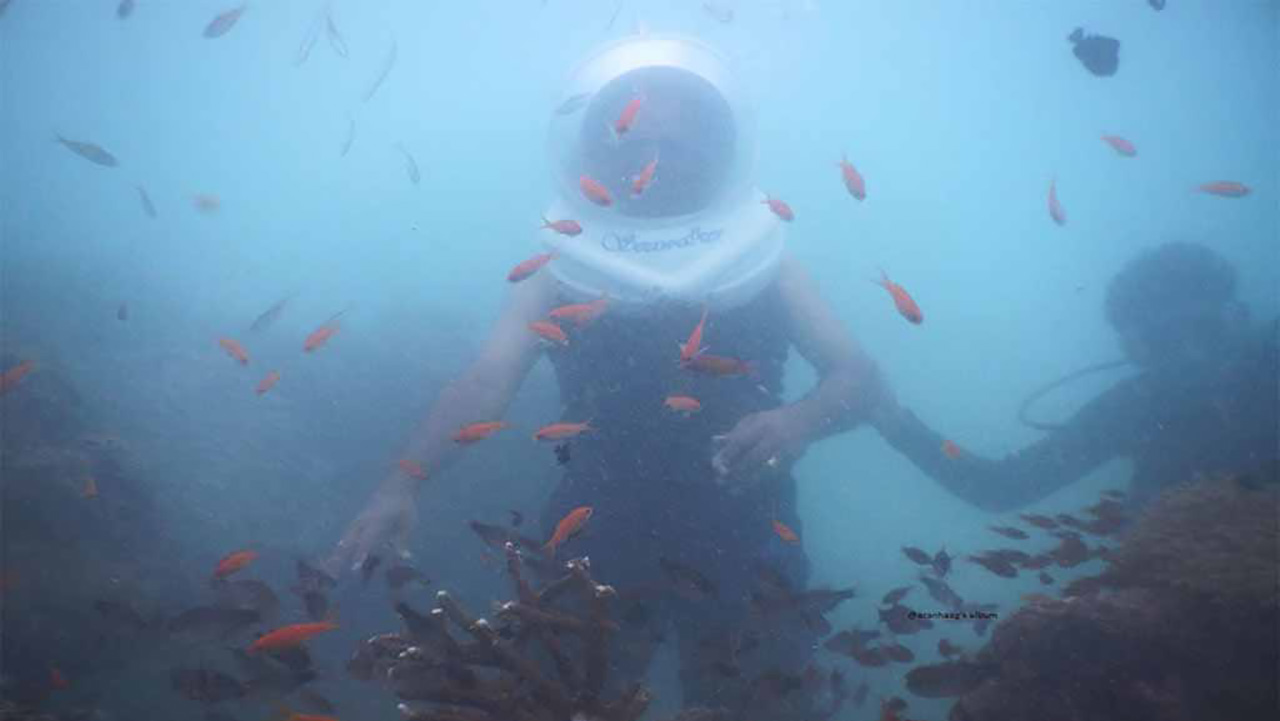 Sea Walk at North Bay Island
After completing the sea walk, we went to the shore of North Bay Island and did snorkeling. The attendant explained the different variety and names of corals under water. The snorkeling lasted for 20 minutes. We also watched the sunset at 4.45 p.m. and set sail for Port Blair at 5.00 p.m. reaching the destination in 20 minutes.
There was some time available for shopping. We visited Sagarika, a government run shop with variety of coral items, wooden items, dresses etc. Next to Sagarika are smaller shops which display artificial jewellary items.
After shopping we went back to the Resort and after dinner, retired for the day.
Day 6
Time to move back to base. As our flight was early morning at 7.55 a.m.,we checked out of the hotel at 6.45 a.m. and had our breakfast of hot south Indian Idlis at vegetarian Annapurna Cafetaria on M.G. Road.
After breakfast, we moved to Port Blair Airport and reached Chennai at 10.30 a.m. and took aconnecting flight to Mumbai at 12.30 p.m. and reached Mumbai at 2.30 p.m. and then onwards to Pune by road.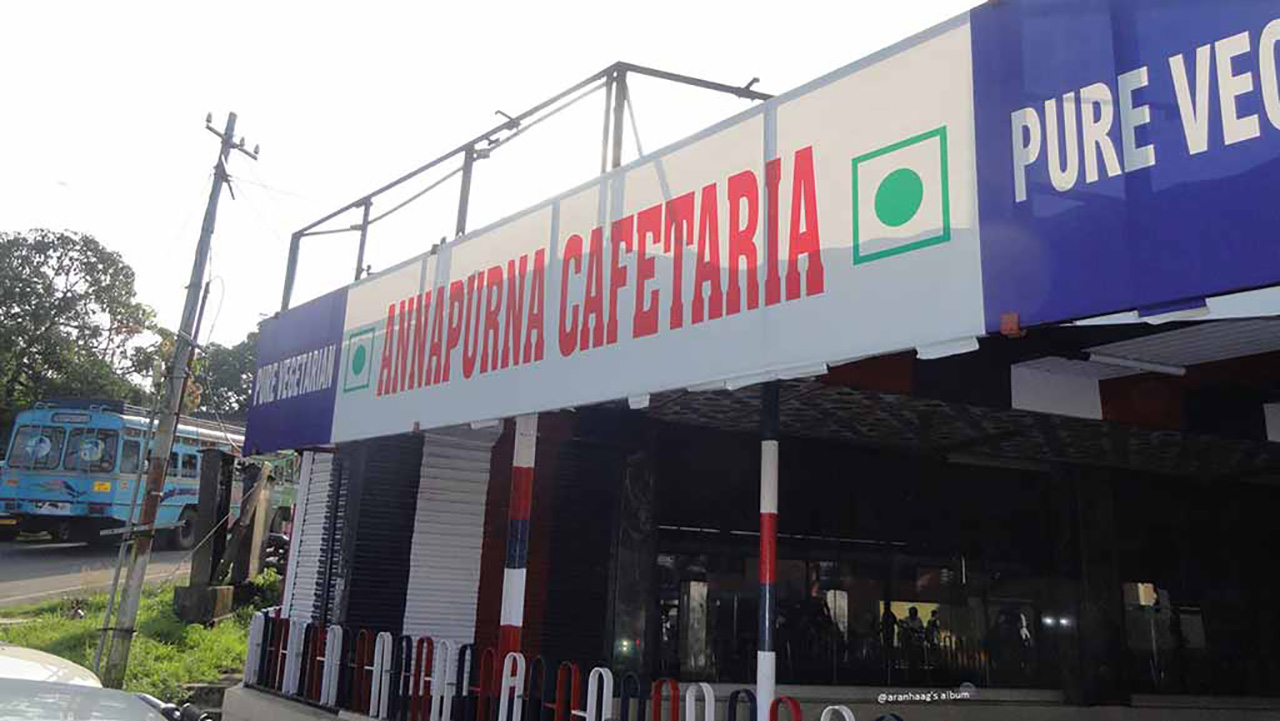 Annapurna Restaurant,Port Blair
Summing up !
All in all it was an exhilerating experience swimming at Radhanagar beach, seawalk at North Bay Island,sea-side relaxation at Havelock and Neil Islands.